♥ White Satin ♥
Haunted by the sins of their fathers...
Searching for the treasure of a lifetime.
Jeffers Georgia, 1866
She'd never give in
Camilla Langesford has no intention of letting her ailing father's new Yankee partner steal their plantation. But Patrick O'Grady isn't like other carpetbaggers. His powerful body, brooding Irish Temper, and pewter-gray eyes speak of a shadowed past. And his soul-searing kiss melts her frozen heart—until a deadly secret shatters it.
He'd never give up
Langesford Plantation is the former Pinkerton agent's last chance to solve a mystery that's haunted him for four years. But Patrick O'Grady didn't plan on a chestnut-haired virgin with smoldering green eyes and a fiery temper, dogging his every step. Or that just one kiss would show him a treasure worth more than a cache of gold bars—until one night changes everything.
♥ ♥ ♥
♥ White Satin ♥
♥ ♥ ♥
Recently released from prison for a crime he didn't commit, Cane Smith returns to Bozeman to claim the son he's never met, only to discover the boy's mother is dead and the boy has been adopted by a rancher and is being raised by his twenty-year-old daughter, Annie.
When Annie refuses to part with the boy, Cane makes her an offer: Miss Annie will have to marry him if she wants to keep the boy in her life. Annie will do anything to keep her little boy with her—but can she live with the hard, rough Cane Smith?
♥ White Satin ♥
Bozeman, Montana's new marshal, James Freeman, has big plans to close down every brothel in town, including Katie's Palace. Katie O'Malley has the fight of her life on her hands—convincing James she's running a legitimate establishment—a saloon, diner, and boarding house.
James soon finds himself falling for Katie, but when an incident occurs, marring her reputation and forcing her to close down the Palace, James loses what trust he has placed in her.
Will Katie be able to save her business? And will she lose her heart in the process?
When Char endures a nasty break-up, she pulls into her shell and avoids nearly all human contact.
Sick of the moping, her best friend drags her along to the grand opening of a new wine bar. Char's attempts at blending into the woodwork fail when the lone cowboy in the room zeroes in on her—and won't take no for an answer.
Char learns that looks can be deceiving, because Darryl is way more than what he seems, and she can't get enough of him.
Could there exist a love powerful enough to overcome the grave?
Hard times during the Great Depression force nineteen-year-old Florence to leave her service at the monastery and seek employment. Fate brings her to work for a wealthy recluse, General Alexander Sterling. Despite many daunting events and a meddling housekeeper with dark secrets of her own, Florence and the General find themselves falling deeply in love.
What she doesn't know is that General Sterling has left his native country escaping a painful past, one he yearns to forget. Destiny won't allow it as he meets Florence, whose resemblance to his deceased wife is unbearable. Could Florence actually be the same woman who still owns his heart and haunts his dreams?
When their blossoming romance is shattered by an explosive truth, a mysterious stranger gives her an opportunity to go back in time to unlock the secret to her existence. Florence must strive to return to the present time to save their relationship from the imminent danger that awaits them.
♥ White Satin ♥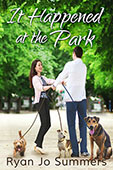 Practical city planner, Cassidy Grant, just inherited her sister's beloved dogs. Except she's a career girl into heels and matching accessories, she's not a dog mom. Worse, she's required to take the furry darlings to the dog park.
Jilted, Ethan Sheppard finally got a dog. And he loves their bonding trips to the dog park. He's also the secret cartoonist whose drawings poke fun at the city leadership.
After they meet, Ethan learns Cassidy's going to be fired if she can't identify the cartoonist, but telling her will cost his job.
♥ ♥ ♥
♥ Pink Satin ♥
Kathryn Ragland never dreamed that one tiny portrait could dramatically alter her life until she woke after a vivid dream in which she changed time and place. Determined to find her way home, Kathryn befriends a mesmerizing stranger. While she has no choice but to accept aid from the brooding war hero, Kathryn learns that thawing the crusty exterior of England's newest and most eligible Duke may just have rewards beyond her wildest dreams.
Captain Michael Stafford is reluctantly returning home to step into his role as the Duke of Asterleigh, an unexpected title. After meeting the completely improper American on the last leg of his journey home, Michael quickly determines that Kathryn is destined to be his. Fate, in the form of mortal threats on Kathryn's life, forces him to fight unseen enemies while he must face his own fears of sharing his life with someone, again. Determined, Michael sets out on his most difficult campaign… to show Kathryn he can be the man of her dreams.
Imagine being kidnapped and transported back in time to a 16th century French castle.
Amelia Augusta Ethrington, 18th century Duchess of Abbington, is considered by society an old maid at thirty-two. She refuses to marry and relinquish her title to a husband. Instead, she finds romance in trysts with total strangers. Amelia's claim to her duchy is an intricate and valuable necklace, The Abbington Jewels. An unscrupulous time traveler, wishing to steal the jewels and sell them at future prices seduces her, catching her off guard, while snatching the necklace.
Amelia must Travel with the aid of a gypsy seer to find the scoundrel, kill him, and retrieve her necklace before her jealous male cousins lay claim to her duchy. Complications arise when she meets Ryan Redstone, a museum appraiser sent to acquire the jewels. Amelia falls in love but knows she must focus on regaining her necklace.
Amelia is faced with the most difficult decision of her life. Love in the present? Or defending her honor in the past?
♥ White Satin ♥
Candy learned long ago not to trust the guys that come into her bar. When Trent, co-owner of Big 4 Trucking and an all around good guy walks in, he can't help but get caught in her eyes. Not knowing the kind of guys she deals with on a daily basis, he's completely taken aback when a hand on her arm earns him a black eye from the blond beauty.
Feeling regret for giving him the black eye, Candy agrees to go out with him. Breakfast turns into date after date, and a great time on the road with her favorite trucker has them growing closer by the minute.
Until they're both tested by mystery and deceit. Before you know it, secrets become part of the puzzle that rock their world. And when someone tries to kill Trent, all bets are off.
♥ ♥ ♥
♥ Pink Satin ♥
In A Stew
Catrine Powell and her younger sister were forced to leave their Utah home after their overbearing sheriff father was killed. Needing to find a job, they take a stagecoach to a town near where the new railroad is being built across Arizona Territory. Though startled by her natural beauty, Sheriff Brett Barton offers her a job running a restaurant he owns that closed when the cook was shot. This would be a dream come true for Catrine, but will he leave her alone or try to run her life like her father? Could they work together with sparks flying between them? Falling in love would be as easy as eating a bowl of her yummy stew.

Secrets in the Snow
The sole owner of a wedding attire shop and budding designer of beautiful wedding dresses, Cynthia is a virgin at age 35 with romantic dreams about finding the right man to make her dreams come true. Her friend Anne is about to get married. Anne's fiance's older brother, Michael, 37, is strongly opposed to the match and will do anything to stop the marriage, including proposing to Anne himself. Mistaking Cynthia for Anne on their first meeting, Michael offers to marry her in order to save his brother from what he considers a very bad decision. Snowbound with the handsome big-city businessman for the long weekend, lonely Cynthia takes a big chance that changes everything. After that weekend, they each have secrets in the snow.
♥ ♥ ♥
♥ Pink Satin ♥
Pumpkin Blossoms by Sue Stewart Ade
Jillian yearns for love and falls for a dog and her sister's former boyfriend. But the dog bolts and the boyfriend seems to still have feelings for her sister. Can she find love with a man who can't see who she really is?

Boston Crème Breakdown by Randi Perrin
Kestin just wants to return to life as normal after returning home from the war, but there's no way his life will be the same again. Looking for easy money to make bills, he stumbles over an ad to teach perpetually-single Erica to cook, and can't resist answering it. He never expected to actually get the job—or to be attracted to her.

Coffee Cake Chaos by Ryan Jo Summers
Avianna Goodman needs cash. That's why she agreed to cater her ex-boyfriend's engagement party. Seeing Sawyer again confirms Avianna still isn't over him. The biggest mistake Sawyer Steele ever did was walk away from the one girl he was crazy about. Now Avianna's back in his life—and he can't have her.

Apple Pie Delight by Sonja Gunter
Lost loves reunite after forty years of deceptions. Can a Sun-Kissed Apple Pie bring Toril Swanson and Erik Sutton together again?

Peanut Butter Kisses by Jody Vitek
Beth Canton attends her ten-year class reunion to catch a glimpse of her long-time, school-girl crush, Hank McGrath, but doesn't hope or even dream of anything more. She leaves with more than a glimpse, while Hank can't get enough of her peanut butter kisses.

The Chocolate Queen by April & Holly Marcom
In a world sprinkled with superheroes, you never know when the person beside you is one of these few elite. When Clarissa begins to fall for a guy who harbors a super secret, it feels like she's not good enough. But he may just help her discover a super sweet secret of her own.
♥ Red Satin ♥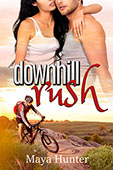 Donna Mallory is a mountain bicycle rider who is kicked off a prestigious competition in a women's race when she gets into a catfight with the jealous girlfriend of a male biker, Liam Adams.
Donna can't give up all of the hours of training she did to get in shape for the race and decides to dress up and impersonate a guy and enter the men's competition.
Liam is disgruntled when he discovers he's attracted to the guy named Don Miller, knowing he's never liked guys. He's furious when he discovers the truth and blackmails Donna into becoming his sex slave for the three days of the racing competition. In exchange, he won't ruin her biking career.
Knowing she has no choice, Donna surrenders her body to Liam, and in the process, loses her heart to him.
♥ ♥ ♥
♥ White Satin ♥
Dealing with the pressures from a divorce and a pushy mother, Penelope crosses the country in search of a happier place. What she didn't expect to find between the open roads and desert hills, is a path to rediscovery...and two men that are completely different, but equally complicated. She wanted a summer to escape from her past, but what she didn't expect is that her past would find her — challenging everything she believes, everyone she cares for, and everything she wants. Forcing her to face the toughest question of all — what is she willing to risk to take a chance on love?
Easton and Ford were not looking for anything more, cowboy hats and motorcycles always felt like freedom for the two brothers, until a new girl came into town. What are they willing to lose to fight for a girl who won't stay out of trouble, with a vulnerability to her smile that they can't seem to ignore? With more than her safety at stake, Penelope will have to learn to trust, but will one of the brothers be able to tame her wild heart in time?
♥ Red Satin ♥
Everything is not always as it seems.
Bono Black is not part of Cain Jones's taskforce. He's merely their pilot. The minute he walks into a sex club in Amsterdam, he is no longer an outsider to the war on their beautiful target, Sky Val. Bono wants her like he's never wanted anyone, and he's a determined man. The only snags are three major obstacles. One, Sky belongs to the most dangerous sex dealer in the Netherlands who'd see her dead before he lets her go. Two, she's undeniably involved in the murders of a senator and president. Three, Cain has ordered her dead. But time is on Bono's side. Before the team leader slits her throat, they need information on her boss. With the interest Sky has shown in Bono, Cain decides Bono is just the man for the job, and that seduction will be his choice of arms.
Life has never been good or kind. From where Sky Val is standing, life looks infinitely bad. Her existence is nothing but physical and emotional torture, but one motivation keeps her going. It is a secret she can't give up on. Bought at the age of sixteen for her forbidden art to manipulate time, Sky's owner constructed the perfect jail to confine her. The invisible chains he put on her are much more effective than a brick and mortar prison. She will do anything her owner or his boss demands, even make the handsome, caring Senegalese pilot, Bono Black fall in love with her. Love is, after all, a woman's best weapon when her mission is to steal a man's secrets.
Every wise person knows things aren't always what they seem, but the truth becomes muddled in a war where the good guys suddenly seem bad, and the devil like a savior. In an upside-down world full of dangerous secrets and supernatural powers, many hearts will be broken, but only one team can win. Which one of them will walk away with their secrets and life intact?
♥ ♥ ♥
♥ White Satin ♥
One phone call leads Chrysanthemum Lincoln on a year-long journey to discover the answer to a question she didn't realize needed asking.

With the help of friends, both new and old, Chrysanthemum finds strength she didn't know possible. But even the strongest people can break under the cruelest pressure. At least that's what someone is counting on.

But Chrysanthemum Lincoln is no shrinking violet. She's a Wildflower, and wildflowers might bend, but they don't break.
♥ ♥ ♥
♥ White Satin ♥
To Love a Scotsman by Nicole Angeleen
When Delphine fishes a man out of the North Sea, the last thing she expects to find is love. Not a big fan of Scots in general, she is pleasantly surprised at her instant attraction to Larkin. The circumstances of their meeting are less than ideal. Delphine is only supposed to be in Edinburgh for a day, and then there's the small problem that someone is trying to kill Larkin.
Delphine is so distracted by her new romance, she doesn't see that the trip to Scotland is a trap until it's too late. An old foe is hatching a plan to kidnap Delphine and steal the most important part of her life: her ship. While her encounter with Larkin feels ill-fated, if they are able to escape, it might turn out to be what saves them both.
The Heart of It by Jannie Lund
Sometimes you have to go to the past to find your future.
Photographer Katherine Wilkes knows how to find and zero in on the heart of things through her camera lens. Her own heart, however, is heavily guarded from being broken. Again. When a routine job yanks her seven hundred years back in time to medieval Scotland, she finds herself in big trouble. Not just because a ruggedly sexy, sword-toting Scotsman mistakes her for the king's mistress and kidnaps her, but also because her walls she's erected around her heart don't seem to function properly in a time so different from her own.
The Forbidden Suitor by April Marcom
Long ago in the highlands of Scotland, a young woman came up missing, her disappearance creating two families of eternally sworn enemies. Four generations later, this everlasting hatred is tested when a descendant from each one comes together in a chance meeting full of laughter and deep attraction, not knowing what bad blood exists between them.
The Ring O'Callum Brodgar by Lisa Aldridge
In present-day Scotland, Anne Bradenegh is on an archeological excavation to the 18th century Castle Brodgar ruins, hoping to unearth some artifacts from the past. Instead, she uncovers her own past when she is visited by the mysterious Callum Brodgar, who has come looking for the cloak pin he lost centuries ago. Suddenly, but momentarily, she is thrust back into her former life and remembers snatches of what she has lost to the present. She must decide which life she will choose before it's too late. The modern, professional life with her colleague and new love interest Cameron Sinha? Or the passionate life she once had in Castle Brodgar with Callum?