♥ White Satin ♥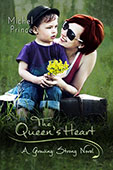 At the tender age of seventeen, Mary Beth discovered the family she thought would see her through anything couldn't accept her one mistake. Thank goodness for her best friends that stepped up to support her decision to keep her child. Seven years later together with her friends, she's created a successful business on the verge of a large expansion.
But the desire to be accepted by her family continues to be a failure that taints all her accomplishments and has her making concessions she never thought she would.
Elias Marquez was content with his life. He definitely wasn't looking for the vibrant redhead down the hall from him. After a chance encounter, he can't escape the need to be in her company again. He wants to explore the possibilities and the undeniable spark her touch inspires.
Torn between trying to right the past and accepting that she can only control her own life is Mary Beth truly ready for the love Elias is prepared to offer as a future?
♥ ♥ ♥
♥ White Satin ♥
Austin Harris spent years in the Army fighting for and dreaming of home. And of Fleur Walker. Now he's out—home in Morello Cove—and it's nothing like he thought it would be. Dark thoughts keep him from finding out who the civilian version of himself is, and he's not at all convinced the light shining brightly in the woman he's always loved from afar is enough to save him. It might very well be that the darkness inside of him will destroy her instead.
It's not easy loving someone who doesn't want to be loved. Fleur Walker has learned that the hard way. It's not even easy to keep your self-respect while trying to balance one-sided love and the art of compromising. Things were supposed to get easier when Austin came home, but they get more and more muddled, and even the most patient woman has her limits.
Both fighting inner battles, Austin and Fleur can't also fight temptation. So they give in to it. The result is not something either of them can live with, but they have very different solutions on how to fix the little four-letter problem called LOVE.
♥ ♥ ♥
♥ Pink Satin ♥
Quincy Matthews witnesses her best friend's murder. To protect her friend's child, she kidnaps the four-year-old girl and flees to Hickory Hills, a small Southern Illinois town where she spent summer with her grandparents.
She disguises the child and herself. When she meets Ace Edleston a teenage romance is rekindled. Ace suspects that Quincy is keeping secrets and confronts her. Telling Ace about the kidnapping will make him an accessory. Not telling Ace will make him walk away.
As Quinn wrestles with this moral dilemma, the murderer is getting closer. Will he find them, and if he does, how far will Quinn go to keep the child safe?
♥ ♥ ♥
♥ Pink Satin ♥
Here in Southwest Florida, we know a lot about the power of hurricanes. They can be terrifying, destructive demons playing havoc with human lives.
We know a lot about the power of love, too. We know love can survive storms of all kinds, and these ten new stories from Southwest Florida Romance Writers prove it.
Here, love comes to rich and poor, young and old. It lurks on the beach, in town, and in Florida's agricultural heartland. It might creep up on you, or it might strike with the power of a hurricane. Sometimes the hurricane arrives in disguise: a vintage motorcycle, a bucking bronco, a man's name. Be surprised, be moved, be open to what comes after the storm. Because sometimes, out of devastation, come new beginnings. And the heart of each story is love. Don't miss the first anthology from Southwest Florida Romance Writers, From Florida with Love: Sunsets & Happy Endings, also from Satin Romance...
♥ ♥ ♥
♥ Pink Satin ♥
Tempting fate, a hapless witness to a robbery and murder takes the stolen money from the robbers' stash to support himself and his daughter, Kate. Over her objections, they plan to head west separately to start a new life. Jake, a Pinkerton agent, traces the gold to Kate and her missing father. He holds her prisoner to force her to take him to her father and the loot. Jake intends to take him back to face charges and return the gold. Meantime the real robbers also trace the spent coins to Kate and her Father and start closing in to get their gold back. Jake now has two reasons to hold his prisoner close... real close.
♥ ♥ ♥
♥ White Satin ♥
A Growing Strong Novel
Nominated for Book of the Year 2013 By LASR
Case Thomas is always in control whether it's on the basketball court, the lab where he works, or in his love life. He thinks he has everything all figured out. All that changes when his parents pass away during his last year of college and Case is thrown into fatherhood when he becomes temporary guardian to two adorable twin toddlers. Weeks later, exhausted and running out of time, Case must decide if he's ready to become a father to these children, or give them up and move on with what's left of his life. Then he meets Gabbie Vaulst.
Gabbie is amazing with the kids, owns her own business, and has all the right curves in all the right places. She can tell Case is attracted to her, but does he really love her or is he just settling for a surrogate Mom who can wrangle his new kids? Knowing that she's falling in love with him, she chooses to push him away until his world straightens out. Can Case prove to Gabbie, and himself, that his feelings are real? Or, is this sudden family too much for both of them to handle?
The odds, as well as members of their past who've come out of the woodwork, are against them, but when kids are involved, all bets are off.
♥ Pink Satin ♥
Can love survive the ultimate betrayal?
Rivals, Galen Odgers and Cam Fawst have shared many things. Gifted athletes and favored sons of Eagle River Wisconsin, both have been quarterbacks for the same legendary football team, the Warriors. Each was raised by a strong woman, and both love the same beautiful girl, Kjersten Solheim.
Though they despise each other, they are inexorably linked. But there is a secret about one of them, a secret that a mother took to her grave, that a high school coach swore never to reveal, and one whose consequences continue to reverberate.
Can love survive the ultimate betrayal and the revelation of a decades old secret?
♥ ♥ ♥
♥ White Satin ♥
Dawn's a woman on the run who's just managed to escape one captor only to be taken prisoner by a band of infamous pirates. But this time it's exactly what she wanted, because they're after the late William Hollingsworth's treasure, just as she is.
Troy knows men will die in the search for this treasure. In fact, it seems an impossible task. What his men don't know is that he's captured Hollingsworth's daughter, and she might be the answer to everything.
As the two work grudgingly together, their stony hearts begin to soften and they soon discover something neither ever thought was possible: true love. Yet before their journey's through, they'll have to face three great obstacles: The Sea of Death where the dead walk among the living, a deadly dragon's cave, and their own rigid hearts.
♥ ♥ ♥
♥ Pink Satin ♥
Barbie Bentley has everything a woman could want: two great kids, a gorgeous Mediterranean home on the West Coast of Florida, loyal friends, and of course, her husband Bud. Yet she's unhappy, longing for a secret something that has to do with the emptiness in her heart.
Restless, she returns to college where she meets hunky Greek pre-med student, Nick Diamandis. Friendship morphs into an affair when an angry Barbie retaliates after Bud tears down her beloved backyard gazebo.
Life becomes stickier when friend Frances risks losing her waterfront mobile home to developers and asks for Barbie's help. Discovering the site is the habitat of endangered sea turtles, she masterminds a protest march, giving residents time to obtain mortgage money to buy the property. But good intentions can lead to you-know-where, and Barbie ends a triumphant protest day in jail.
Relatively tranquil spring days are soon followed by more drama when friend Elaine is shot by her lover, and Barbie is suspected by a Coral Cove detective of being on the scene with Nick at the time of the shooting. Can things go any worse for Barbie?
Relatively tranquil spring days are soon followed by more drama when friend Elaine is shot by her lover, and Barbie is suspected by a Coral Cove detective of being on the scene with Nick at the time of the shooting. Can things go any worse for Barbie?
Vincent is a gorgeous, sexy magician with an unusual talent (that of reading minds) and an even more unusual manager and assistant, the sarcastic, plus-sized Emmaline. The two have always been the best of friends and perfect professional partners. And when he uses his psychic powers to woo and seduce his exquisite assistant and longtime friend, exploring her hottest innermost fantasies and making them all come beautifully to life, true magic ensues . . . .