Valentine's Day is just around the corner and love is in the air.
In celebration, we're giving away two of our more recent Pink Satin releases. Whether it's first love or a second chance at love, we love it!
Scroll down and you'll find the giveaway. Be sure to stop by the other great blogs participating in this giveaway hop, including our very own parent company Melange Books, as well as its young adult imprint, Fire and Ice.
---
by Nancy Pirri
Chicago social worker, Maggie O'Hara, arrives at the Minneapolis airport where she awaits the arrival of her family to pick her up and take her home with them for Thanksgiving. She's nervous, due to the surprise she has for them in her arms—her newly adopted baby girl from Korea. With little thought, Maggie grabs a stranger getting off the same airplane, and asks him to portray himself, temporarily, as her fiancé. She knows that her old-fashioned family will disapprove of the adoption because she's not married. What Maggie doesn't count on is falling in love with Dr. Nick Capra, who does more than a passable job of posing as her fiancé that day, and over the holiday week.
From the moment Maggie snags Nick, a confirmed bachelor, his gut tells him his single days are over and that she's the woman for him. While posing as her fiancé he tells her he wants to be a permanent part of her life. While Maggie has fallen in love with Nick, she has a secret that could ruin their chances of being together, though she refuses to divulge the secret to him—until the choice is taken out of her hands.
Can't wait to read the book? Buy it now!
Kindle ♥ Smashwords ♥ Nook ♥ PRINT
AND / OR
Add it to your Goodreads Shelf!
---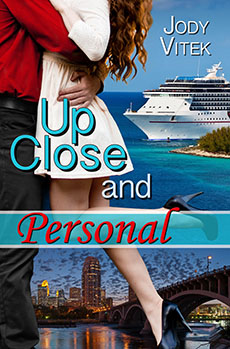 by Jody Vitek
Four years after losing her husband, Elizabeth Farefield's mother-in-law still blames her for his death. Finding it difficult to move forward, she takes a Caribbean cruise to contemplate her future…bumping into the past.
Divorced for five years, Robert Burnhamwood is happy with his playboy ways until on a cruise, a chance meeting has him longing for something he hasn't wanted since his first marriage…a monogamous relationship filled with love.
But when Robert's youngest daughter retaliates against his new relationship, his oldest daughter takes up with a man against his wishes, and a rapist terrorizes her neighborhood putting his daughter at risk, a peaceful future with new found love may be beyond Elizabeth's grasp.
Can't wait to read the book? Buy it now!
Kindle ♥ Smashwords ♥ Nook ♥ PRINT
AND / OR
---

Enter to win a digital copy of BOTH books!
---