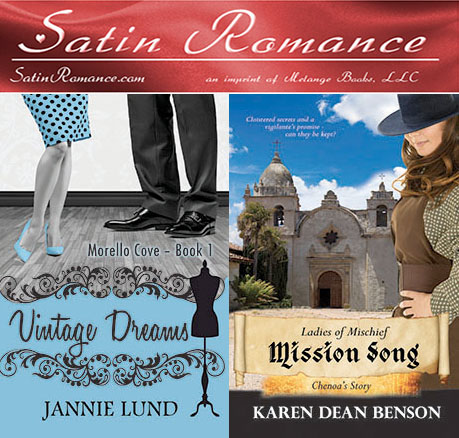 Did you know we're taking part in a blog hop right now? A giveaway blog hop? That's right, we're giving away a couple of books over on THIS POST.
Before you hop over there for your chance to win, check out the two new releases we have today!
---
A White Satin Romance
by Jannie Lund
Scott Sullivan has been sent on a not all together pleasant trip down memory lane to secure a location for a client. Sure, it may take some charm and convincing to get the owners to sell, but he's up for the task. And then he's getting the hell out of dodge to escape the memories. In and out, quick and painless, that's the plan. He just hadn't counted on running into a fiery and stunning obstacle with gold flecks in her eyes.
Danielle Harris has worked hard to make her dream come true. With her best friend, she owns a boutique where she sells the vintage style dresses she designs. When a city lawyer comes along and tries to ruin everything, her Italian temper flares.
With Scott trying to conduct a business deal and Danielle fighting for her dream, sparks fly. Not least sparks of attraction and perhaps love. It's clear that one of them needs to give in, but the feelings of resistance are deep-rooted in them both.
Purchase:
Kindle ♥ Smashwords ♥ B&N Nook ♥ PRINT
Release Date: February 6, 2016
Genre: Contemporary Romance
---
A Pink Satin Romance
Ladies of Mischief #2
Chenoa's Story
The deathbed promise made six years earlier to care for Padre Tomas' child of his heart, compelled Don Sebastian to place her in a convent in Boston. He hoped the nuns would curb the forceful will that continually clashed with his own. Now, like a thunderbolt, her unannounced arrival reveals how utterly the nuns failed in their assigned task.
The political climate is critical. He fears that she chose a treacherous time to return. His secrets as a former vigilante are as numerous as the scars on his back. Keeping the deathbed promise to guardian Chenoa is uppermost in his mind, even as an old enemy threatens his land and life. Will his desperate gamble destroy or ensure the future? The choices he has to make could be fatal.
Barely ten years between Chenoa and Don Sebastian, these two headstrong people must confront the sparks of hostility and magnetism—or they will not survive.
Purchase:
Kindle ♥ Smashwords ♥ B&N Nook ♥ PRINT
Release Date: February 6, 2016
Genre: Historical Romance