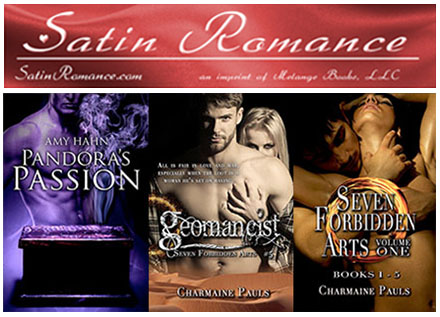 ---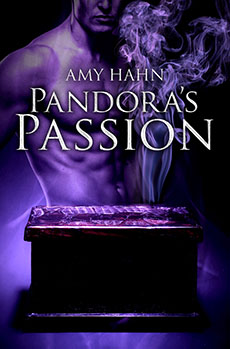 ~ PINK SATIN ROMANCE ~
by Amy Hahn
Pandora fought through the centuries to win the heart of Prometheus, but he refused to forgive her for past wrongdoings. He adores humankind and gave them the gift of fire. She nearly destroyed mortals when she opened The Box.
After centuries of trying to make amends and gain his forgiveness, Pandora said goodbye. Now he's back and his sudden appearance on her doorstep awakens deep emotions. They can't resist each other. They never could.
But the arrival of the infamous Gorgons endangers them and places human hope in jeopardy. They are forced to confront their past amidst the danger of the present and forgive each other, finally tearing down the walls of resistance and surrendering to their immortal love.
Purchase:
Kindle ♥ Smashwords ♥ Nook
Genre: Fantasy Short Romance (Mythology)
~ Add to your Goodreads shelf ~
---
~ RED SATIN ROMANCE ~ 
Seven Forbidden Arts #5
All is fair in love and war, especially when the enemy is a drug baron and the loot the woman you love.
Sean Rivers lives with a dangerous secret. He possesses a forbidden art. As geomancist, it is in his power to destroy landscapes with earthquakes and volcanoes. Knowing his kind is hunted by forces of both good and evil, Sean's job as mixologist in Cartagena, Colombia is the perfect cover. Until Asia, a zesty beautician walks into his life and wrecks the very laws of physics.
When Sean and Asia compete for the premises where Sean intends to open his cocktail bar, he pulls out all the stops to win the challenge … to Asia's detriment. Together they end up catering for the guests of a drug baron who rented Isla del Pirata for a week-long birthday celebration. The kingpin has no intention of letting Asia leave. Ever. If Sean is to rescue her, he'll have to use his art, blow his cover, and maybe even his life.
Purchase:
Kindle ♥ Smashwords ♥ Nook ♥ PRINT
Genre: Paranormal Erotic Multicultural Romance
~ Add to your Goodreads Shelf ~
---
~ RED SATIN ROMANCE ~
FIVE BOOK DIGITAL BOX SET
Volume 1
An action-packed paranormal erotic romance series
Cain Jones starts a paranormal crime taskforce of individuals possessing seven forbidden arts to prevent an elusive enemy from taking world power by communication and technology domination. As the team grows, mission after mission, Cain slowly uncovers the identity of the archenemy he has to destroy.
The assignments take the team on a journey from the magical forest of King Arthur in French Brittany, to the oldest Franciscan monastery in Chile, the tropical beach of Costa Rica, and rustic Pirate's Island in Colombia.
From a mystical firestarter to a bloodsucker, a timid librarian, an ambassador with a dark side, a drug lord, a super-mixer bartender, a French-Breton baron, a surfer babe who makes her own waves, and a Russian weatherman with more up his sleeve than a forecast, the Seven Forbidden Arts cast takes you on a whirlwind world tour of action, desire, and love as they not only battle wars of power and justice, but also meet their mates.
Pyromancist (Book 1)
What is Clelia supposed to do when the man she secretly loves kidnaps and uses her as bait to catch a dangerous firestarter?
Aeromancist, The Beginning (Book 2, a novella)
Katherine agrees to become the lover of a mysterious Russian library owner for thirty days.
Aeromancist (Book 3)
Lann couldn't foresee how his thirty-day contract could cost Katherine's life. He'll do anything to save her.
Hydromancist (Book 4)
Maya wasn't supposed to like Tim, let alone sleep with him. Her only focus should be on killing him.
Geomancist (Book 5)
When a drug lord takes Sean's woman, paradise island in the Caribbean Sea is about to turn into hell.
Purchase:
Kindle ♥ Smashwords ♥ Nook
Genre: Paranormal Erotic Multicultural Romance