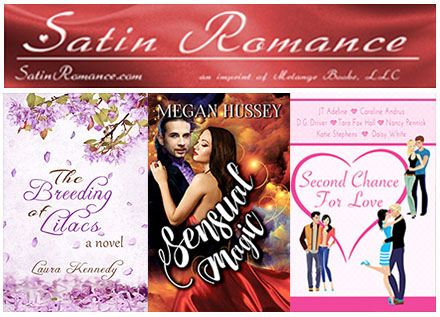 ---
~ PINK SATIN ROMANCE ~
Barbie Bentley has everything a woman could want: two great kids, a gorgeous Mediterranean home on the West Coast of Florida, loyal friends, and of course, her husband Bud. Yet she's unhappy, longing for a secret something that has to do with the emptiness in her heart.Restless, she returns to college where she meets hunky Greek pre-med student, Nick Diamandis. Friendship morphs into an affair when an angry Barbie retaliates after Bud tears down her beloved backyard gazebo.
Life becomes stickier when friend Frances risks losing her waterfront mobile home to developers and asks for Barbie's help. Discovering the site is the habitat of endangered sea turtles, she masterminds a protest march, giving residents time to obtain mortgage money to buy the property. But good intentions can lead to you-know-where, and Barbie ends a triumphant protest day in jail.
Relatively tranquil spring days are soon followed by more drama when friend Elaine is shot by her lover, and Barbie is suspected by a Coral Cove detective of being on the scene with Nick at the time of the shooting. Can things go any worse for Barbie?
Purchase:
Kindle ♥ Smashwords ♥ Nook ♥ PRINT
Genre: Contemporary Romance
---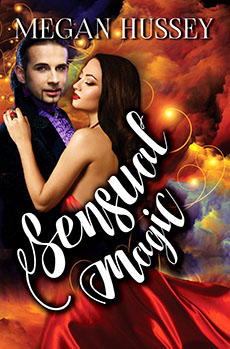 ~ PINK SATIN ROMANCE ~
by Megan Hussey
Vincent is a gorgeous, sexy magician with an unusual talent (that of reading minds) and an even more unusual manager and assistant, the sarcastic, plus-sized Emmaline. The two have always been the best of friends and perfect professional partners. And when he uses his psychic powers to woo and seduce his exquisite assistant and longtime friend, exploring her hottest innermost fantasies and making them all come beautifully to life, true magic ensues . . . .
Purchase:
Kindle ♥ Smashwords ♥ Nook
Genre: Fantasy – Short
---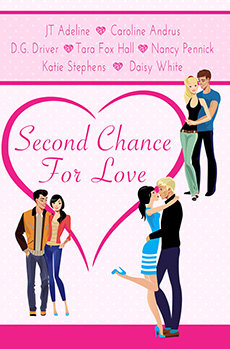 ~ WHITE SATIN ROMANCE ~
by JT Adeline, Caroline Andrus, D. G. Driver, Tara Fox Hall, Nancy Pennick, Katie Stephens, Daisy White
Who says love doesn't come around again?
Seven stories of single parents finding love for the second time
The Ticket to her Heart by D. G. Driver
Dalton Jones is a traffic cop who feels guilty about giving a speeding ticket to a beautiful single mom. With his teenage daughter's help, he finds a way to meet the woman again, and they fall for each other. Only, he's neglected to tell her who he really is.
The Perfect Beginning by Nancy Pennick
Tracy DeMarco hasn't been on a date with a man in five years. She has a child to raise and a job she likes. Her daughter says she needs to get a life. Tracy thought hers was fine until a vampire shows up on her doorstep one Halloween night.
A Love for Michelle by Tara Fox Hall
Left by her boyfriend on the same night she lost her job, Michelle isn't looking for love when she runs into Max and his two children while sledding. In a few short months, the new couple is inseparable. Then Michelle realizes she's pregnant with her ex's child. Will Max love her enough to accept a baby that isn't his?
The Price of Silence by Katie Stephens
Even though Maggie and Rob are divorced, neither can deny the love they still have for each other. As they wonder why their marriage failed, Maggie's artistic agent is determined to have her. Grant befriends her children in a bid to make her his wife, but will Rob stand aside and allow another man to take his children … and his soulmate?
Mr. Right or Mr. Right Now by Caroline Andrus
Celebrity photographer Rebecca thought her life was perfect, until she walked in on her husband and the nanny—in bed. A drunk phone call later, she's managed to snag the most sought after male nanny in Los Angeles. Months later, at her best friends urging, she dives back into the dating pool, but will she end up with Mr. Right Now, or will she realize Mr. Right is already at home with her kids?
For the Love of a Horse by Daisy White
Single mum Ali has done everything she can to forget the past, but when a new love is threatened by a freak horse riding accident, she is forced to face her memories. Can she find the courage to take her second chance for love?
Unexpected Match Maker by JT Adeline
Peyton Geoffrey never thought she needed another dad, until her mom's past boyfriend, Tate Langston, entered her life. Will Peyton be able to get this surly man to understand how important he is to others, and get him and her mom together again?
Purchase:
Kindle (Free on KU) ♥ PRINT
Genre: Contemporary Romance Anthology