Welcome to the brand new Satin Romance imprint of Melange Books, LLC.
At Satin Romance we strive to bring you only the most romantic of stories.
We offer three lines of books:
White Satin ♥ Sweet
Pink Satin ♥ Sensual
Red Satin ♥ Hot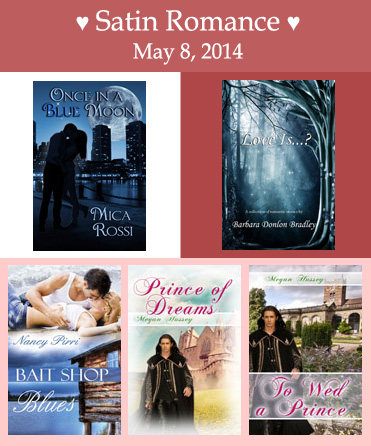 ♥ ♥ ♥
White Satin Romance
♥ Sweet♥
♥
by Mica Rossi
Irish spitfire Caighleen Mulrunnen is no stranger to ghosts, ghoulies and things that go bump in the night. Her job exposing paranormal scams makes sure of that. When she chances across Finn McHail under a moon-soaked sky, his touch sends fire racing along her nerves and has her daydreaming about his ice-blue eyes. Until, that is, she finds his picture on an internet dating site, his ears as pointed as a one of Santa's elves. Despite the magic that sings between them, Caighleen sets out to prove he's a fraud. But love has a way of making a believer out of anyone. In the end, Caighleen must choose. Will she keep her heart closed, or will she succumb to the magic of Finn's love?
---
 ♥ ♥ ♥
Pink Satin Romance
♥ Sensual♥
♥
by Linda White-Francis and Megan Hussey
Jane Dunn delivers flowers by day and falls asleep during the news at night. When former beau, Travis Godwin, shows up, life becomes far less predictable.
---
by Nancy Pirri
 Finding love shouldn't be so hard…
What does a successful businesswoman born and bred in Chicago want with half-ownership of a quaint bait shop in northern Minnesota, willed to her by her grandfather? And how will the reclusive half-owner of the shop convince the woman to sell out her half to him?
For Cassandra Thompson, a Marilyn Monroe look-alike who's recently been dumped by her second fiancé in two years, it could mean a well-needed change in life.
For Leif Halverson, a handsome man of Ojibwa extraction, and co-owner of the shop, it could mean disaster—like falling in love. Leif is far from happy about this city woman invading his territory so he challenges her to a wilderness survival contest where the winner takes all.
---
by Megan Hussey
 Teacher Juditha Collins finds herself short one prince for a Renaissance fair. While reading a book about that time period, she releases gorgeous Prince Valentin. She has broken the curse that bound him to its pages. He offers his body and all the pleasure he can bring her.
---
by Megan Hussey
Professor Juditha Collins found a real-life medieval prince who burst into her life from the pages of a magical book. A year later, the passion she shares with gorgeous Prince Valentin still runs hot, but at this year's fair, her students plan the ultimate Renaissance surprise.
---
 ♥ ♥ ♥
Red Satin Romance
♥ Hot♥
♥
Love is many things, humorous, romantic, magical. In this variety of tales, Barbara Bradley will take you on a journey from the whimsical to the fantastic and pleasurable side of love.
A Wizard For Hire 
Stephanie? A legend? Wizards? For real? When she flees down a corridor and finds herself in another world, Stephanie finds all her beliefs in question.
Crystals & Disappearing Cats 
Glenda's name has plagued her forever. Then she inherits a crystal that takes her to another world where witches are real, and she's mistaken for one.
Picture Perfect
Susan's homework assignment was simple. Bring something inanimate to life. Poor Warren. He didn't plan on being captured inside the manikin Susan decided to use.
A Fish Out of Water
Sarah McIntyre's klutziness could get her fired. Her last chance is a dinner function. Did fate or bad luck bring the stranger to her?