Frozen
---
by Nicole Angeleen, Rhonda Brutt, Marilyn Gardiner, Tara Fox Hall, Elena Kane, April Marcom, Charmaine Pauls and Nancy Pennick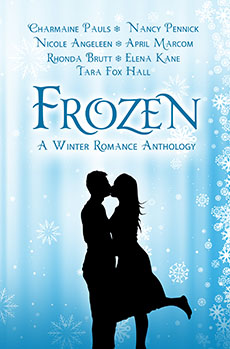 The Ice Hotel Wedding Test by Charmaine Pauls
Jess and Derrick have been together for twelve years. When Jess finally gives Derrick an ultimatum, tie the knot or set her free, he proposes a bizarre test to decide their destiny.

Lord of Ice by April Marcom
Jack Frost gave his heart to Lilly the day she was born, making her the perfect leverage for a fire spirit whose heart is set on becoming Lord of Ice.

Frozen Moments by Nancy Pennick
Drew keeps proposing. Kate keeps saying no. It's their little game. Can the holiday season change that? Kate has lost her best friend, and Drew does his best to cheer her up in this delightful story of love and memories.

Frozen With Possibilities by Rhonda Brutt
A resort on the shores of Lake Superior in the middle of December was not exactly what Tiffany had in mind for a mid-winter vacation. But when she agreed to accompany her progressive grandmother on this frozen trip, she discovered that life is filled with possibilities, if you only go after them.

Frozen Heart Thawing by Nicole Angeleen
In the depths of winter, Thomas Everett grudgingly meets his betrothed, Nila Sarvani, the daughter of a powerful sheikh. The passion they share takes them both by surprise, but the ruthlessness of American business threatens to tear them apart. Nila must decide if her dreams can be realized if she allows herself to fall in love.

Frozen Dreams by Elena Kane
In a world surrounded by snow and magic, Cara finds herself grossly out of place. Ridiculed by all, she lives her life in terror from perpetual bullies until she runs into a stranger in town. Ben is everything she always wanted, but never expected. Better yet, he sees past her differences. Could Ben be her dream come true?

Her Frozen Heart by Tara Fox Hall
Alaric has always loved the winter season, second only to his love of spells and sorcery. When his beautiful neighbor Cassandra reveals she's a natural witch, he's instantly smitten, even as he despairs of attracting her interest. Is there hope for a magical couple who thrive in different seasons?

The Thawing of Holly's Heart by Marilyn Gardiner
What happens when a single mother meets an old friend and, despite the conviction that she will never again open her heart to another man, finds herself falling in love?

---
Purchase:
Kindle ♥ Nook ♥ Smashwords ♥ PRINT
Release Date: October 29, 2014 | 2nd Edition: Fall 2017
Genre: Romance Anthology