Caroline Andrus
---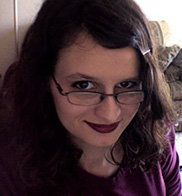 Caroline Andrus was born and raised in the St. Paul suburbs where she lives with her husband, two daughters, and Henry McCoy, a wild cougar trapped in a housecat's body.
She divides her time between writing, Facebook, designing, and managing her household. In her spare time, she enjoys reading, rocking out to the radio, and attempting to garden (but only in the hot summer months.)
She is passionate about both reading and writing teen fiction, and is pretty sure she will forever be eighteen at heart.
Website: www.CarolineAndrus.com
Blog: www.CarolineAndrus.com/blog
Facebook: www.facebook.com/CarolineAndrusDesigns
Twitter: @FaerieTears
Instagram: @caroline_andrus
---