Blackmailed Bride
---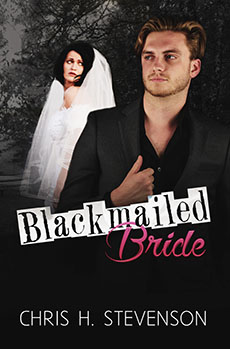 Ryan Barlow never thought that having a cigarette break in a church parking lot would change his life forever. 
A runaway bride unexpectedly falls into his arms from the branches of a tree. Candace is a feisty little brat who demands protection from her fiancé, who she has left standing at the church altar. 
Great—she's a runaway. Ryan reluctantly takes her in, and the hatred between them abounds. 
He begins the wildest ride in his life, fending off mobsters, avoiding his estranged wife, and trying to repress his feelings for this beautiful little pole dancer, who, inevitably captures his heart.
---
Purchase

Kindle ♥ Smashwords ♥ iBooks ♥ Nook ♥ Kobo ♥ PRINT
Release Date: October 23, 2018
Genre: Contemporary Romantic Suspense
~ Pink Satin Romance ~
---
Excerpt
Chapter One
Candace Sabella sat at the wardrobe mirror pretending to primp again. She actually had her eyes on the two bridesmaids standing behind her, who looked approvingly upon her reflection as if to say, Good luck, sweetie. You look like a million bucks.
Most brides would have welcomed any glowing comments and best wishes. Yet nobody knew just how forced this wedding was and how much she hated the prospect of seeing it through. People might have heard rumors and suspected something, but those people belonged on the side of the groom and sworn to secrecy. An open mouth could cause lots of problems for snitches and rumor mongers, even death. The wedding guests had been handpicked by the groom. The priest, if he suspected anything at all, was paid to keep his mouth shut. Since Candace's parents couldn't be located, the groom had provided his own man to give her away. The groom had picked out the wedding dress without her say or approval, but it was pricey, even extravagant. All of it was staged, wrapped up tighter than the meat inside a nut shell.
This man Candace was to marry had complete control over everything and everybody, including beautiful women. The stakes had been too high for her to refuse his demands.
The organ music crackled to life and then drifted up the stairwell to the second story dressing room. Candace didn't know the tune, although she suspected the wedding march would kick in as soon as she made her expected appearance.
She bit her lower lip, a nervous tick. A reckless impulse came over her—one that made her heart race. Could she pull it off?
Candace slid her stool back and made a half turn in her seat. She addressed her bridesmaids. "You'd better get down there. You don't want to be late for my wedding." She half chuckled.
"But what about your train?" said the taller one. "You shouldn't let it drag on the floor."
"That's okay. I'll gather it up. I have to make a quick trip to the ladies' room, and then I'll be straight down and join the procession." She watched her bridesmaids leave, then stood up to listen to their footfalls hurry down the steps. She plucked a pair of scissors off the makeup counter and slid the train fabric through the blades. She began to make a small cut and then thought better of it. She fingered the beret-type veil over her head, realizing that she couldn't do away with either piece on the church property. Evidence. They'd be found soon if a search was ordered.
Candace pulled up her train and wrapped it around her neck several times, then slipped out of the door and hurried down the hallway. When she entered the restroom, it was empty. She locked the door behind her. In the next minute, she was standing at the second story window. When she pulled it open, it gave out a creaking groan. She parted the drapes and kicked a leg over the window frame. She hung for a moment, a breeze rustling through her satin dress, her bangs fluttering against her forehead. She stood fully upright and leaned out as far as she could to grab a hold onto the rain gutter. After a short leap, her hands caught both sides of the aluminum pipe, and she swung around until her legs straddled it. The sides of her heels gouged in the metal, so she kicked them off. She performed a hand-over-hand slide to the bottom, picked up her heels and ran for the tree line at the edge of the church property.
Under the cover of a small windbreak of trees, she stopped and contemplated her escape route. She hadn't broken a sweat, but there was a lot of distance to get clear of the church grounds—actually a long haul—much further than she thought.
She took off, weaving inside and around the trees, running as fast as she could, stepping on sharp bark and twigs. When she got halfway to the main road, a change of plans made her stop. It might have taken her five minutes or more to get to where she was now. She couldn't be seen on the street in her wedding clothes—too many potential witnesses. She would have to hide out somehow, wait for dark and then make her exit under the cover of darkness.
Candace bolted for the largest tree she saw on the edge of the driveway. A glance over her shoulder revealed no one leaving the church, which was a stroke of luck meaning no one yet suspected her absence.
When she stopped in front of the giant tree, winded but feeling strong, she wrapped her arms around the base and kicked her heels into the thick bark. Losing purchase was a problem, forcing a backward slide until she began a bowlegged shimmy upward.
When she reached a high branch, her strong hands and arms took her out on it, where she kicked her legs back and forth. She gained speed and height from her full body swing. When her swinging momentum was at the highest, she bent at the waist and kicked her body up on top of the branch with a smooth ease. She crouched to catch her breath. Then she smiled. A gymnast couldn't have done it better!
She figured it wouldn't be long before a gang of people would come bursting out of the doors and scatter throughout the parking lot, checking all the cars, roaming the lawn and nearby trees. She was right. A few minutes later the main doors swung open, and a flood of wedding guests started searching the property.
She had been right about everything except for a few people who scanned the ledges and roof of the tall building. She could hear excited voices in the distance. Some people screamed out orders to others, while some cupped their mouths and called out her name. There was nothing funny about the people swarming over the property. Their movements were quick and desperate. Three cars left the parking lot and screamed down the church road, heading out onto the main street. Through a slit in the branches, she could see others running for the straight tree line break where she had been only minutes before.
She trembled with the fear of what the groom might do to her if she was found hiding in a tree. His thugs might rough her up some with his approval. Mostly, she feared a ride back to his mansion where he might exact a heavier toll on her. The thought of it made her shake uncontrollably.