Under the Linden Tree
---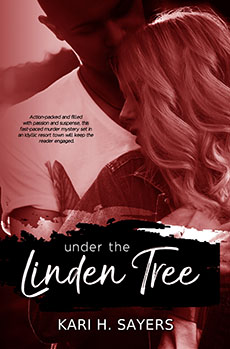 Megan Viets, a mystery writer who lives with her disabled husband and small son in an idyllic resort town in the San Bernardino Mountains, becomes entangled in a real-life murder mystery. She works with the local sheriff, with whom she ultimately develops a stormy relationship. The investigation takes her to London and New York, where she learns that the victim is a lawyer for the mob. The FBI has to be called in, and Megan becomes embroiled in some dangerous situations. Will she be able to help solve the murder.
---
Purchase:
Kindle ♥ Smashwords ♥ Nook ♥ Apple ♥ Kobo ♥ PRINT
Release Date: May 26, 2020
Genre: Romantic Suspense
Pink Satin Romance
---
Excerpt
Chapter One
Nestled deep in the San Bernardino Mountains, about five thousand feet above sea level, lies an expansive lake, still and dark. It is bordered by a string of large, lake-front homes like a giant's necklace. Sloping upward behind these mansions are majestic sugar pines, noble firs, and tall cedars that hide clusters of rustic cabins. Even without binoculars, I can see it all clearly from the deck of our home that overlooks the lake, only a few feet from the water.
My favorite time of the day is before dawn when everyone is still asleep. I take my coffee out on the deck to work on my novel or to simply enjoy the solitude. It's very dark up here at night. The city lights from the megalopolis of LA do not reach this altitude. Yet if the moon is out, there's a glimmer and sheen on the lake below and even the smallest ripple becomes visible.
It was such a night in late spring that I sat huddled in a blanket with my laptop under the soft glow of the outdoor gas heater, a steaming cup of hot coffee on the side table next to me. Clouds were scuttling across the sky, now and then obliterating the moon so that darkness alternated with bright moonlight.
I was trying to work out the plot of my sixth mystery novel: Mrs. Luella Jones, a black middle-aged principal of an elementary school in Los Angeles, had been found lying face down in a pool of her own blood, brutally stabbed to death in her school office. My sleuth, Jule McCormick, an ex-nun turned psychology professor, had visited the school the day before. She returned the next day to retrieve a folder she had left behind. Police officers were everywhere, and when she heard about the gruesome murder, she offered her assistance. It was not the first time she had helped the LAPD.
I was deep in thought when the moon once again showed her face from behind a vanishing cloud, flooding the lake with light. Suddenly I noticed ripples on the water and heard the low purring of an engine. "What on earth was a boat doing out on the lake at this hour?" I wondered. It was too early for even the most avid of fishermen to be out. The boat slowed and then came to a virtual standstill. I heard a muffled splash as if something heavy had been thrown overboard; it was not an anchor, for the boat turned around and glided back from where it came.
The residents around here take pride in keeping the lake clean, and the authorities deal severely with people who dare dump trash and garbage into the water. I put my laptop down and walked over to the front edge of the deck. Leaning over the rail, I peered through the dark to see where the boat had stopped. I felt certain it was docked at one of the mansions not too far away. The lake is relatively shallow at this end, and the water was crystal clear after the winter's rain and snow. It should be easy to discover if something was tossed overboard.
A sudden gust of wind rustled through the trees, tossing some old leaves around on the ground before it swept across the lake like a ghostly witch on a broom. I shivered a little, half expecting to see the water sprite stick its ugly head up from the water. I was reminded of an old painting on my Norwegian grandmother's wall of a forest tarn with reflections of the moon and the water sprite emerging from the water in the form of a white horse.
I shook the eerie feeling off and went inside, checking on John Patrick, or JP for short, who slept in his crib in the far corner of our bedroom. I stroked his brown hair that was growing blonder by the day. It was hard to believe that he was over two years old. I looked at my husband, Chris, lying there so peacefully. It was almost impossible to imagine that he was paralyzed from the waist down. The terrible accident when a burning beam fell on him seemed so long ago.
I lay down beside him, and when I kissed his forehead, he stirred and mumbled something.
The next morning, the physical therapist came and massaged Chris's legs while I was in the kitchen making coffee. When the therapist left, Chris came into the kitchen with JP right behind.
"I told Emilio that I'd work out on my own for a while," he said in a matter-of-fact tone as I came over to give him a good-morning hug.
"Is that a good idea, Chris?" I said.
He didn't answer me.
"Hello, mamacita," Chris greeted Maria, our combination nanny, caregiver, and housekeeper, who was just coming through the side door.
Maria had been like a mother to Chris and his brother, Ed, since their own mother died when they were quite young.
"El desayuno esta listo para mis niños," she said.
I was constantly reminded how devoted this short, stout woman with a pretty round face was to Chris's family. Although she had three grown sons at home, she had now also "adopted" JP.
"Thank you, Maria," I said approvingly. "I don't know how I would manage without you."
"Oh, you're fine," she said and smiled.
"Did you hear me get up last night?" I asked Chris as we sat down for breakfast.
"No. What were you doing up so early again?"
I ignored the question. "Someone threw a heavy garbage sack into the lake in the middle of the night," I said.
"Where? How far out?"
"About 1500 feet or so. I was out on the deck when a small boat came out from the shadows, maybe from one of the big mansions on the north shore. It stopped, and someone dropped a big load of something overboard."
"Load of what?"
"I don't know. The boat turned around and went back."
"Damn these people. They come here and think they own the place."
"But I've no idea who they were."
"I do. A bunch of people from the East Coast or somewhere go in and out of the big Lundgren estate, you know the real estate developer who died a couple of years ago. The house has either been sold or leased."
"I wonder if I've met them."
"I don't think so. They're not around much. They come and go."
"There's a middle-aged couple with a little white dog that I see on my walks sometimes," I said. "They're not very friendly, but from the little they've said, I can detect a New York accent."
"Maybe. I guess it could be them."
"What's on your agenda today, Chris?" I asked.
"Not a whole lot," he said between bites. "I'll go out to the hospital and talk over a bid on a couple of jobs for them." Despite his injuries, Chris still ran his father's construction company.
"The doctor sounded pretty optimistic yesterday," I said. We had just been to see the orthopedic surgeon at USC the day before.
"Oh, I'll walk again. You can bet your life on that, but it's almost killing me to have to wait so long."
"Be patient," I said in a comforting tone. "The doctor said something about getting all your functions back when you can wiggle your toes. That was really funny."
"Yeah, who knew it was so important to wiggle your toes," he said with a short laugh.
He ate in silence for a few minutes while I got up to help JP finish his breakfast. Maria helped him down from the high chair and cleaned him up.
"Do you think I should call your brother and tell him what I saw last night?" I asked casually as I sat down again to finish my coffee. "Do you think he'd have time to investigate?"
"Maybe. He has a lot on his mind."
"True." I cocked my head and looked at him. "He has a lot of women throwing themselves at him these days."
"Yeah, he's a good catch, being the town sheriff and all."
My thoughts went to our nephew James, Ed's only son, who had lost his mother last year. His mother, Elizabeth, had been a math teacher at the high school when she developed a particularly aggressive form of breast cancer. James was a senior in high school, a vulnerable age. He often came over after school to do his homework and play with John Patrick.
"James can't stand any of them," I said.
"I know how he feels. Ed and I couldn't stand the floozies my father dated after my mother died. We always feared he would marry one of them."
"Who took Elizabeth's job after she died? Do you know?"
"I have no idea. Are you interested?"
"No, not really. She taught math. I teach composition and literature, and that's different."
After breakfast, I took Chris in his wheelchair and our German shepherd, Duchess, on a leash for a walk on the path along the shorefront while Maria took JP to nursery school. To my surprise, we met the very same couple we had just talked about and their little white poodle mix. Duchess and the little poodle—or whatever it was—started to sniff each other, but the wife pulled her dog back, and Chris barked out an order for Duchess to heel.
The couple looked innocent enough. The wife's gray coat was of good quality, and her short hair was blonde with a few fashionable streaks of brown, clearly not styled by our local hairdresser. She smiled and seemed friendly enough. The man's blue baseball cap and sunglasses, however, didn't exactly invite conversation, but to each his own. They didn't strike me as people who would illegally dump garbage in the lake.
"What a couple of snobs," Chris commented disapprovingly. Like everyone around here, Chris likes to talk to everyone. He was so completely different from my first husband, a taciturn bush pilot who was killed when he crashed his plane in a severe sandstorm in North Africa.
"Not everyone is a talker like you, Chris," I said. "And this couple didn't appear to want to carry on a conversation."
We turned around and strolled home at a leisurely pace. Pushing the wheelchair in silence, I wondered who was on that boat and what had been thrown in the lake.