The Perfect Blend
---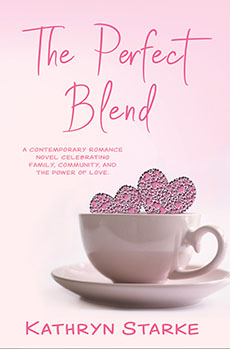 Minnie Logan is the owner of Logan's Coffee Shop, a staple in a small New England town. Struggling to maintain her grandfather's legacy and rent payments, Minnie has less than a month to creatively preserve and renew her family business. When Robert Vaughan, the CFO, of a giant coffee conglomerate arrives in the small town in pursuit of a takeover of Logan's Coffee Shop. Unbeknownst to Minnie, she falls for the mysterious newcomer while she uses the magic of love and the miracle of faith to give back to the community that has given so much to her.
---
Purchase:
Kindle ♥ Smashwords ♥ Nook ♥ Apple ♥ Kobo ♥ Google Play ♥ PRINT
Release Date: January 26, 2021
Genre: Contemporary Romance
White Satin Romance
---
Excerpt
Chapter One
Minnie casually wanders around her quiet, quaint coffee shop. It's quarter past three, so there's just one woman sitting alone at a round wooden table by the window reading a book. Since Minnie has never seen her in here before, she assumes the lady doesn't know the place closes at 3:00 p.m. every day. The steady stream of customers into the small local establishment is very different from how it was just six months ago, before the giant coffee corporation opened their doors in the tight-knit neighborhood.
Minnie really can't afford to lose any more money. She continues to walk around aimlessly then straightens up working at her own table until the guest leaves about ten minutes later. Minnie thanks her for coming and follows her to the door, turning the open sign over. She clears the empty coffee cup and saucer and wipes down the table. She carefully puts the dishes on the counter then opens the cash register, which sits on the corner. She lifts each stack of sorted dollars out of the drawer and starts counting aloud.
"Twenty, forty, sixty...one hundred...one hundred twenty...one hundred fifty...one hundred sixty...two hundred...two hundred ten...twenty...thirty...fifty...two hundred fifty-five...two hundred seventy-three. Two hundred seventy-three dollars not including debit or credit transactions," she mumbles to herself.
She pulls out the black ledger from the drawer under the register and walks to the round table closest to the bar. As she has done for the past ten years, she writes the date and cash total on the next row of the lined paper. January 15th: $273.00 cash. She sighs then returns to the register removing the signed copies of the receipts collected from 6 a.m. to 3 p.m. today. She tabulates the figure and adds it to the line. $150.33 credit/debit Total: $423.33
She stares at the total amount earned today. Then, she pulls a folded letter from the back of the ledger.

December 15th
Dear Ms. Logan,
This letter is to inform you of the rent increase effective January 2nd. We appreciate the business from your location of Logan's Coffee Shop on our property for the past ten years. We do understand that prior to our leasing office taking over this building that your family's coffee shop had been a staple in the community for more than five decades. We recognize the loyalty of your family's business. Therefore, we will work with you to ensure that both of our business needs are met. I look forward to another successful year for Logan's Coffee Shop.
Sincerely,
Jack Colton
Colton Commercial Properties
Minnie rereads it. We will work with you to ensure that both of our business needs are met.
"What a joke!" she sarcastically shouts just as her mom emerges from the kitchen wiping her floured hands on her apron.
"What's a joke?" her mom asks, semi confused as she approaches the table where her daughter is intensely reading something. She sits down beside her.
"This letter! That's what!" She hands it to her mom, whose eyes quickly scan the paper.
"How long have you had this, Minnie? And why haven't you shown this to me?"
"I didn't want to burden you with this information, plus I thought I could figure it out myself." Minnie noticeably starts getting teary-eyed.
"And what exactly is your plan?" Ellen looks directly at her daughter.
"I don't have one," she responds shrugging her shoulders.
"Okay, so then, this is exactly where we need to start. He says in his letter that he will work together with us."
"Oh, I know what it says, but I'm afraid that's clearly not the case. Mr. Jack Colton was not at all pleased with the fact that I couldn't afford his full rent on the second. He called and left a message today saying I have thirty days to get the rent in full to him or he's kicking us out—no questions asked. And he's already putting a For Lease sign in the window tonight."
"Why is he putting up the sign if he said he's giving you thirty days?"
"My thoughts exactly."
Ellen pats her daughter's forearm. "Alright then, don't you worry your pretty little head about this! We can turn this situation around."
"How? He said he doesn't want to leave this profitable space vacant, so he'll take bids along the way as a backup if we can't come up with the money."
Minnie starts to break down, and her mom puts her arms around her shoulders.
"Aww, honey, what is the problem?"
"This is all my fault. Dad would have known what to do, and I'm letting him down."
"Your father has always been proud of you, sweetheart, and I know he would still be today. He was over the moon when you decided to work with him here after you graduated college."
"I really miss him, Mom." Real tears stream down her face.
"Me too, baby. I miss him every single day, but there is a big part of you That's completely your dad. I know you will come up with something, and I'll support you with whatever you decide to do."
"Thanks, Mom. I have to get to the bank to deposit the cash from today before it closes. Maybe I can talk with someone there about a loan extension. They loved dad and my grandfather." Minnie organizes the materials in front of her.
"See, you're already thinking about the next steps. Go ahead and see what you can find out. I'll lock up this afternoon." Ellen stands up and tucks in her chair.
Minnie's grandfather, Herbert Logan, developed Logan's Spices over sixty years ago. He started by simply using common herbs to make extracts, spices, and blends. The famous bottles are still found today on shelves in grocery stores around the country. It was Herbert's wife who suggested he open a bakery to display his most popular creations. That was when Logan's Coffee Shop was born. The family business has served coffee and homemade treats to the residents in the small town of Greenfield, Connecticut, every single day.
Herbert's son and wife, Minnie's parents, took over the day to day operations when the elder Logan and his spouse just couldn't keep up with the daily grind anymore. Minnie's dad ran the business side while her mom, Ellen, prepared the fresh baked goodies every day.
Minnie and her sister grew up in the shop. They talked to the customers, cleared and set all of the tables, and helped with the seasonal decorations. (This included making posters or cutting out shapes to make the store as festive as possible.) When Minnie's sister went away to college, Minnie learned more about the business side from her dad, learning how to budget and market the business to the town. Minnie went to the University of Pennsylvania two years after her sister left and earned her degree in business and management. Her dad was elated when his youngest daughter told him she was returning home to put her degree to use in the family business. She spent each day with her beloved parents until her father suddenly died of a heart attack. She and her mom immediately took over the reins the best they could.
Minnie knows everyone in town. The neighbors come in for coffee before work, breakfast, or for a midday snack. She watches children, young and old, savor her Mom's famous pumpkin pie, chocolate, banana nut muffins, sugar cookies, cinnamon twists, lemon cake, flaky biscuits, and fudgy brownies. People came in to share their happy news or get a pick-me-up during a rough day. The Logans are usually the first in town to hear about someone's birthday, promotion, new baby, or illness. The community rallied around the Logans when they experienced their own loss over a year ago. Minnie Logan understands more than anyone that their building on the corner of the block is more than just a coffee shop, and she is determined to prove it.