Shadow Trail
---
by LuAnn Nies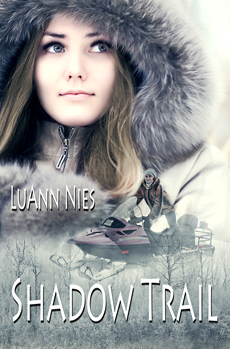 An adventurous weekend in the north woods of Minnesota turns terrifying when Crystal Harrington loses sight of the other snowmobilers during a blizzard. Racing to catch up, her sled careens over the side of a steep embankment, threatening her survival. Not only is Crystal forced to face the frigid cold and approaching darkness, she's confronted on the trail by a large wolf and mysterious figure that resembles Sasquatch.
Rick Saunders, park ranger, responds to the call that a woman is missing. He is haunted by his past and a failed search and rescue. He prays that Shadow appears and leads him to Crystal before tragedy strikes again.
---
Purchase:

Kindle ♥ Smashwords ♥ Nook ♥ Apple ♥ Kobo
Genre: Contemporary Romance
---
Excerpt
Shadow Trail
Crystal Harrington swore she had the worst luck ever. Not only had she gotten stuck with the ugly purple snowmobile, which the hand warmers on the handlebars didn't work, she'd been selected to carry the tampons and matches from the survival kit. If that wasn't bad enough, the man her friend Melissa had fixed her up with for the romantic weekend had backed out.
"You know what, Melissa?" Crystal stopped and placed a hand on her friend's arm as they reached the main doors leading to the Northern Lights Lodge parking lot. "It's alright with me if I don't snowmobile today." Or any other day for that matter, she thought. Spending the holiday weekend alone in the north woods, in the middle of February, was not Crystal's idea of a romantic weekend. Besides, she didn't want to be remembered as being the only one who couldn't get a date for Valentine's Day.
"Crystal, we all want you to stay for the weekend," Melissa pleaded, grasping both of Crystal's hands in hers. "It won't be the same without you."
Crystal chuckled. "No, it would be better." She'd only agreed to come this weekend because Melissa insisted it was time she extended her boundaries. It had been two years since her last romance blow up in her face when she hadn't leaped at the chance to go bungee jumping or skydiving. This weekend was supposed to be about her loosening up and trying something new.
Soon the rest of the group chimed in with their remarks, convincing Crystal to at least stay for the day. Tomorrow morning she'd pack up and head back to the Twin Cities - leaving romance to the lovers.
She flipped her head forward, used a scrunchy to place her unruly auburn curls in a Pebbles style ponytail, then donned her helmet and goggles. It wasn't long before she and the six couples were suited up and heading out across a frozen lake.
Now that looks like a romantic spot, Crystal sighed, admiring a little cabin nestled among assorted pines and birch trees. Throw in a cozy fire and a handsome woodsman and she'd have it made.