Paws For Christmas
---
by Mariah Lynne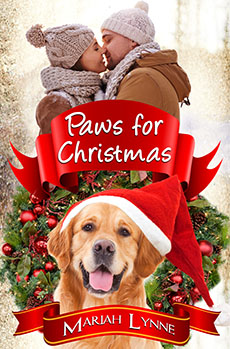 It's the Holidays and Jessica Munroe seems destined for misery. Nonetheless, she is trying to make the best of it. Her fiance, Jake, an emergency room doctor, dumped her for his nurse and just two weeks prior, she had to put her dog, her best friend, Mazy to sleep.
The pain of losing both the man she loved and her best friend has taken her to a new low. Jessica, determined not to stay down, is now hard at work trying to push through the holiday season by doubling up on the Christmas lights and decorations she's putting up outside her residence.
As Jessica works, a big brown scruffy dog appears in her yard and refuses to leave when she tries to shoo him away. He's filthy, looks hungry, and seems like he needs help. A dog lover, Jessica takes him to her vet who discovers a metal bone shaped tag buried in his matted fur. The tag reveals his name, Sam, and a phone number to call if he is lost or injured.
Sam's owner, Trey Musgrove, is in the hospital, the victim of a head-on collision. Now, Jessica's life is about to change forever thanks to Sam, this big brown scruffy lovable dog.
Side effects of reading PAWS FOR CHRISTMAS are a happy heart, an uplifted spirit, new confidence in the future, and a smile on your face!
---
Purchase
Kindle ♥ Smashwords ♥ Nook ♥ Apple ♥ Kobo ♥ Google Play ♥ PRINT
Release Date: November 3, 2020
Genre: Christmas Romance
~ A PINK SATIN ROMANCE ~
---
Excerpt
Chapter One
Mrs. Amanda Sonaro, wearing a purple and yellow flowered Muumuu, stood under the green and red silk Christmas garlands that dangled from the Island Pharmacy's navy blue awning, chatting with her two friends. All three women, noted island gossips, waited for someone to pass or something to happen that they could talk about. Knowing from experience what they were up to, I brushed by them as fast as I could to go inside and buy shampoo. As I did, I noticed Mrs. Sonaro push her pink round sunglasses to the tip of her nose to study me.
"Well look at that!" I overheard her tell her friends. "Jessica Monroe's wearing bright red lipstick! Not her usual pale pink. Bet she didn't change her shade for Christmas so maybe that's a sign she's finally getting over her ex, Jake, and has a new man in her life."
When you live on a small Florida Gulf Coast barrier island like I do, a change in lipstick shades can send some island residents into a gossip feeding frenzy. Not wanting to confront her, I answered mentally. Yes, my lipstick shade is now red, and it is for Christmas. There is no new man in my life.
I returned home from the pharmacy wondering how much of their nonsense I'll have to deny, but I didn't let that disrupt my holiday plans. Today, November 23rd, is the day after Thanksgiving and the day I traditionally start my holiday decorating. I've lived on Hibiscus Island my entire life and appreciate my life here, but this year more than ever, I wanted to put this Christmas season on pause even though I knew I needed some Christmas cheer in my own life now more than ever.
Needless to say, last month was not Currier and Ives perfect for me. My fiancé, Jake, an emergency room physician, left me for a nurse, while a few weeks later I had to put my beautiful but very sick angel Mazy, a cocker spaniel, to sleep. I miss her more than ever. I can't say that about that double-timing Jake.
Since our island's main tourist season doesn't start until Christmas Day, we weren't flooded with visitors. My work as an associate editor and contributing writer for a national online travel magazine, Dream Travel, usually comes to a standstill this time of year so I decided to use my extra free time to decorate my home and get ready for my annual Christmas Eve open house in style hoping to bring some cheer to myself and other islanders who needed it as well.
May be overkill, but I decorated my white front door with a handmade huge shiny silver tinsel wreath with attached cut-out cardboard hot pink flamingos and wrapped in white snowflake lights. After I hung the wreath, I attached chasing white lights along the beams of my porch before planting pink poinsettias in the pots that line my front walk. To insure I had enough cheer, I outlined my front door frame with silver garlands that matched the wreath.
Taking a few steps back from my pink island cottage to admire my work, I came to a sudden halt when I heard loud continuous barking. I turned surprised to find the dirtiest big brown dog I have ever seen. He barked and stared straight at me. I didn't recognize this dog as a local pet since I had never seen him before.
Our island is a small town before all the tourists invade so most of us islanders can identify local pets and kids. Not knowing if he was friendly or aggressive, I tried to shoo him away at first, but he wouldn't leave. This big brown dog remained steadfast as my eyes examined him further; he was thin almost emaciated. What I could see of his golden-brown fur was matted and filthy. I love animals especially dogs and wanted to assist him. As I looked into his gentle light brown eyes, my heart melted. This poor guy cried out for my help so I decided to talk to him.
"Okay, easy boy. I'm not going to hurt you." When he heard the soft tone of my voice, he stopped barking for a few minutes and wagged his tail. Normally tail wagging would be a good sign, but I remembered my friend Tom had a watchdog, Specter, in his auto repair garage. Specter would wag his tail before he was ready to bite so all that sweet looking tail wagging didn't convince me. I spoke to the dog again like I was talking to a child. "Honestly, honey, in all of my thirty-one years, I've never seen a dirtier dog than you. I'm not going to hurt you. You look like a good boy."
At that point, he dropped down on my lawn and placed his head in his paws. He appeared weak and whined. Whined? Was he hurt? He was breathing hard. What do I do now? I felt so sorry for him, I had to approach him to try and help. I walked slowly toward him holding my hand out for him to sniff. He looked up at me with a most gentle gaze. I cautiously moved in closer to him and he licked my hand after smelling.
I petted his head and noticed he had on a leather harness and collar, but he had ripped through the leather leaving the skeleton of both wrapped around his body. I couldn't pick him up so I left him on the front lawn and ran inside to get a bowl of water and a bowl of plain Cheerios. I thought of Cheerios because my Mazy used to love them and since she's been gone a few weeks now, I don't have any dog food in the house, having donated what was left to our local shelter.
I guessed by the dog's features he was part Golden Lab and part German Shepherd. This huge creature gulped down the bowl of water before turning to the Cheerios and eating the entire bowl. I dashed inside to get him more. It didn't take this guy very long to clean the second bowl as well. I didn't want to let him leave, especially if he was injured. He seemed like he had a bad go of something, but I didn't want to call the shelter. Poor guy looked like he'd been through enough and besides it was almost Christmas and I didn't want him spending the holiday in a cage so I decided to call Mazy's vet, Dr. Amy. I dialed the number still on my cell's call list.
"Dr. Amy's office. Susan speaking. How may I assist you?"
I responded, frantic for help. "Susan, this is Jessica Monroe. I need an appointment with Dr. Amy today if possible."
"Hey Jessica, nice to hear from you again. Are you getting a new pup for Christmas? We miss seeing you."
"No," I answered almost cutting Susan off. "I have a stray dog that wandered into my yard and needs medical attention. He's in pretty bad shape."
Susan placed me on hold for a few minutes before she came back on the line. "I checked with Dr. Amy. She said to bring him here in twenty minutes. We close at four. The office is slow right now because of the holidays. Most islanders don't want vet bills this time of year unless it's for an emergency."
"Please thank the doctor for me. We'll be there unless I can't lift him into my car."
Susan added. "See you then."
I hung up and felt something furry nudging my leg. It was my new friend. I looked at my watch. Three thirty? I had been so busy decorating I had no idea it was so late. I spotted an extra piece of rope I used to tie some downed palm fronds earlier in the day for trash pick-up. I grabbed the rope and made a noose out of it; one that I hoped would hold him to get to the vet. I placed it around the dog's neck and had him stand. He could and walked with me to my front door so I could lock it before we made our way over to my car, a red and white four door Mini Cooper, not exactly the right size for transporting a dog of his size.
Now for my next problem, will he be able get in on his own or will I have to give this big boy a lift? I opened the back door and tried coaxing him into my small back seat. Oh he was so dirty, and I just had my car detailed yesterday for the holiday parade. He looked at me. I had no doggie treats so all I could do was sweet talk him with "Good boy get in. Wanna go for a ride?"
Ride was the magic word. Wow he was one smart dog. He got in with no hesitation. I got in the driver's seat and just like that we were off to the island vet. As we drove through the island center, I wondered if Mrs. Sonaro and her chatty friends were still in front of the pharmacy and if they would notice my ruby red lipstick now or if that huge furry body in my back seat would dominate their gossip.