House of Lavender Dreams
---
by Megan Hussey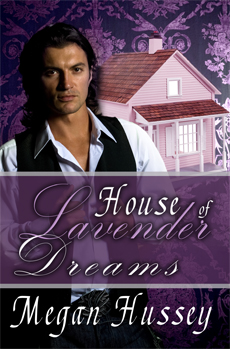 Laira, a quirky Florida storeowner, seeks the perfect doll for her July Fourth display. Fireworks ignite when 'living doll' Roman comes magically to life—introducing Laira to love and untold pleasures in the walls of his mystical dollhouse—also known as the House of Lavender Dreams.
---
Purchase:
Kindle ♥ Nook ♥ Apple ♥ Kobo ♥ Smashwords
Release Date: October 14, 2013
Genre: Fantasy - Short
~ A Pink Satin Romance ~
---
Excerpt
Chapter One 
"A curiosity shop in Florida? Wouldn't that be like starting a bottled water shop in the Lost City of Atlantis?" Corinne Rothburn cocked a curious eyebrow in the direction of Laira.
Laira shrugged, and turned her attention to the stuffed gorilla. One decked out fashionably in a floral gingham jumper and faux pearl earrings that currently occupied the front counter of Clandestine Curios, a shop recently opened in the downtown business district of Clearview, Florida. "This is a community of unique and wonderful people who love unique and wonderful things," she said as she gestured broadly toward her storefront, which came complete with Ouija boards and eight balls, antique dolls, decorative fans and screens, and T-shirts emblazoned with lively phrases both comical and cryptic. "And business, I must say, is very strong."
The shop stood as just another positive aspect of life in Clearview, where Laira took up residence two years ago. Although she stood as a mere mortal with no magical powers or persona, she felt comfortably at home with the fairies and vampires, elves and werewolves who populated this mystical city. Clearview, while not her hometown, was a place where the impossible happened, and where the unconventional—and even paranormal—reigned as customary and every day. Thus it seemed the perfect home for a girl who was anything but typical.
Since her school days, Laira's love for the unique and outright bizarre earned her ridicule from fellow students at the Midwestern prep school she'd attended. Their reaction also elicited, she supposed, by her short, unstyled crop of platinum blonde hair and stark white complexion. Her acute fondness for surreal, at times unearthly hues of nail polish and lipstick, and a slight form—one guy called it wiry and, she was pleased to report, his toes still bore the imprint of her stiletto heel—clad frequently in black probably didn't help.
The proverbial last straw arrived in grand fashion just after graduation, when she approached her local city council about the possibility of opening a curio shop. This store, she told them, would unite the ridiculous and the sublime to offer fun, innovative products to the public.
Her ears still rang with their reviling laughter. Soon after their unanimous rejection of her proposal, she relocated to a place where dreams were encouraged, and the unusual was, well, pretty much usual, if not outright commonplace.
For some reason, she found a city council peopled primarily by ghosts, werewolves, vampires, and fairies seemed more receptive to a shop specializing in the curious and otherworldly. Laira truly basked in the glory of a personal dream come true.
As her July 4th holiday sale approached, however, Laira found herself faced with a unique quandary, unique, even for her. How, she wondered, can one stock funny, freaky summertime gifts that are still, as per the season, hot and romantic? For once at a loss for fresh marketing ideas, she'd contacted her Aunt Corinne, a long-time favorite relative who also happened to be a doll and curio collector.
"Bring me your strangest, sexiest, totally sellable item, and I'll pay you top dollar," Laira shrugged uneasily. "Well, as 'top' as I can afford after our rent and light bill are covered."
Seemingly eager to oblige, Corinne walked into Laira's shop today with what appeared to be the fruit of a long, exhaustive search. A dollhouse that, Laira had to admit, was the most beautiful she'd seen.
With two stories, four sturdy walls, and a gracefully sloped roof, the house appeared solid and classically designed. Yet its truly eye-catching element, she found, was its ethereal lavender hue. A luminous coating flowed untainted over the surface of the house, accented with glittering gold trim.
Leaning forward, Laira peered through a clearly planed bay window that distinguished the main floor of the house. She gaped as she saw two silk-upholstered, floral print chairs sitting at opposite ends of the window, atop a lush carpet of candlelight ivory. The ceiling of this room boasted the elaborate decoration of a miniature mural, cherubs in radiant flight across a background of crystalline sky.
Her gaze slowly shifting downward, Laira saw that a model fireplace held noble court over the opposite end of the room. Flanked by a cherry wood mantle and the likeness of a glowing fire within, this fireplace came topped with miniature china dishes and silver-cut pottery. Finally pulling her admiring glance away from her newfound treasure, Laira straightened to once again face her beaming, closely watching aunt.
"Aunt Corinne, this dollhouse is a rare find, simply beautiful," she nodded officially. "I think, though, it might be better suited to a doll museum or antique store." Shrugging, she reached upward to pat her aunt's velvet-clad shoulder. "It's a beautiful piece, Auntie, but for this shop I need something, well, curious."
Rolling her eyes, Corinne thrust her small, delicate hand into the upper floor of the house, where she withdrew a small but well-detailed figurine. "Is this 'curious' enough for you, Dearie?"
Again leaning forward, Laira's eyes widened as they perused the likeness of an absolutely stunning man. One with wide, dark eyes, long hair that fell well past his broad shoulders, and carved, literally, she guessed, features.
The doll's impressive form came covered in what appeared to be a period costume. One that consisted of a long azure blue jacket with brass buttons, a pair of sleek black slacks, and polished boots with shiny buckles.
"Did he come with the house? I'm impressed. I'd be even more impressed if he stood about five and a quarter feet taller and could talk." Upon further inspection, she took keen, appreciative note of his full lips, and arm muscles that bulged through the fabric of his sleek, finely tailored jacket. "Okay, he wouldn't even have to talk. Really."
"Yes, that doll came with the house. A handcrafted collectible I bought a few years ago from a family in my neighborhood." Gesturing freely toward the doll, Corinne winked slyly. "He, my dear, is your curiosity."
Laira shrugged. "A hottie, yes. A curiosity? Not so much."
"I beg to differ," Corinne pursed her lips, well, curiously, as she perused the figurine. "In all my years as a collector of dolls and their houses, I've seen some homes that come complete with entire miniature families. Parents, kids, sometimes even pets." She wrinkled her forehead, seeming to conduct a mental cataloguing of her extensive collection. "Others contain two dolls, one male, one female. A few come with only a female figurine." She pinned her niece with an intent, meaningful stare. "Never, Laira, have I seen a house that came occupied by a lone male doll."
Laira raised her eyebrows. "So what we have here, Aunt Corinne, is a well-dressed, perpetually single male in an exceptionally well-decorated home." She nudged her aunt playfully. "Uh-oh."
"Hardee. Ha. Ha." Corinne gritted her teeth, but relaxed visibly when Laira enveloped her in a warm, grateful hug.
"I adore the doll, Aunt Corinne, as well as the house. This will make the perfect front window showpiece for my Fourth of July display." Pulling back slightly, she addressed her aunt with a quizzical gaze. "What do I owe you?"
Corinne chuckled, and kissed her niece's forehead. "I don't need your money, dear. That smile is payment enough."
* * * *
Late in the evening, Laira reclined in an overstuffed easy chair that marked the center of her modest apartment.
When she first arrived in Clearview, Laira lacked the funds to rent both a home and a business space. She found a two-story building to fill both needs.
"The upside is I have an extremely short commute to work," she sighed tiredly as she bent to examine her newly acquired dollhouse, which now stood beside her front door.
"The downside is this eight-inch-tall figurine has fancier digs than I do."
Sliding apart the well-structured halves of the lavender dream house, Laira's curious gaze took an impromptu tour of the rooms adjacent to its impressive living area.
An adjoining library revealed a tiny cherry wood reading desk topped with an antique lamp, and a mini grand piano, a contradiction in terms, she supposed, with moveable keys. A lavatory boasted a sink with brass faucets and a circular, ivory-plated bathtub, but no apparent commode.
Poor lad, Laira pursed her lips sympathetically as she patted the head of the house's sole resident.
Her hand stilled abruptly as she noticed an apparent shift in the doll's location. When Laira carried the dollhouse upstairs minutes earlier, she thought she'd situated the doll in a parlor chair, just beside the bay window.
So how did he end up in the bed?
Shaking her head briskly, Laira gaped at the image of the gorgeous figurine encased in sleek lavender sheets, beneath a canopy with a matching hue and embroidered with sparkling gold stars.
The rest of the room, accented by plush carpeting, also housed a mirrored vanity, and was bordered by a set of French doors that lead to...oh, Laira didn't care. She couldn't tear her gaze away from the hot dude in the bed.
The doll's jacket had somehow been stripped from his upper half, and laid neatly across the end of his bed.
His sheets were gathered at his waist, affording Laira a generous view of a bulging, well-muscled chest, and impeccable washboard abs.
He's a doll, you perv. Laira vigorously slapped her own hand in a fit of self-disgust. Okay, it's now officially been too damned long since I had a date.
Laira faced her first Clearview summer without a boyfriend.
Ah, but no worries, she smirked, and nodded sardonically toward the doll. I've got a carved formation of manlike substance. I'm all set. I'm sure to be the envy of all my friends.
Then again, she mused, at least this dude couldn't disappoint her by forgetting her birthday and all major romantic milestones, by burping profusely at a candlelit dinner table, or by presenting her with a beribboned beer can holder, one lovingly emblazoned with the logo of his favorite football team.
Maybe I will be the envy of all my friends, she shrugged. And that's just sad.
She still didn't know how the doll ended up topless in bed. It was the doing, she figured, of a teasing Aunt Corinne.
Though that just doesn't seem like her, she arched her eyebrows.
Impulsively she reached into the bedroom of the dollhouse and lifted the doll from its bed. Cradling the figurine close to her heart, she rose from the floor and trudged slowly as tiredness overtook her, across the room.
Curling up at the cushiony center of her lavender futon, she cradled the doll tightly in her palm and rested it against her cheek.
Okay—if claiming a doll as a summertime love is pathetic, then a grown woman sleeping with a doll clearly tips the scales of, um, 'pathetictivity'.
The most depressing thing of all, she supposed, was the strong, fervent desire that the toy in her hand would come alive. Instead of an elusive fantasy, he could transform into a tall, strong man who could fill her empty arms, and her lonely heart.