Noelle's Nocturne
---
by Megan Hussey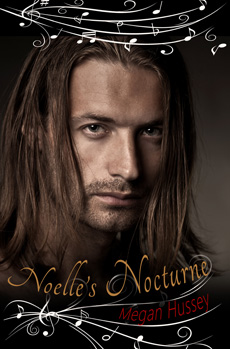 Lord Gerard is a gifted pianist who also happens to be a lord of the night. His lonely life is brightened and transformed when he meets Noelle, a plus-sized, no nonsense spinster. The two celebrate the holidays with laughter, music, and a passionate affair; yet can Noelle truly accept and love this creature of the nocturne?
---
Purchase:
Kindle ♥ Nook ♥ Kobo ♥ Smashwords
Release Date: November 17, 2013
Genre: Fantasy - Short
~ A Pink Satin Romance ~
---
Excerpt
Chapter One 
London, December 1860
At midnight Noelle wandered far from the sanctity of her home, venturing forth into a night that both alarmed and seduced her.
She knew it was madness to leave the safety of her family's manor house at such an ungodly hour, to run through dark, rolling hills toward a clandestine destination.
"Yet, speaking as a twenty-eight-year-old spinster, if the most 'clandestine' thing I ever do is listen to some handsome bloke play his piano, I'd say I'm doing passing well," she muttered to herself. Gathering the fabric of her scarlet-hued skirts into two chubby hands, Noelle raced toward the grounds of a neighboring estate and headed straight for a multi-tiered home that glowed bronze in the light of the moon.
Ignoring the broad porches, arched windows, and tall turrets that distinguished this impressive homestead, she ran to the back of the estate, coming to an abrupt halt beneath a second-story window.
For the past four months, this remote spot had served as a retreat of sorts for the busy Londoner. A place where she could forget the daily stresses of her job as a seamstress, and of her family life, a life she shared with an elderly aunt who watched her every move.
"If I was at home she would be pressing me to start planning the family Christmas party." Closing her eyes, Noelle threw her head back to bask in the breeze of a chilly London night. And soon enough, her senses basked in an altogether different sensation. "She can't reach me here."
Flowing free from the overhead window, the smooth, lilting piano music bathed her psyche. Every note transported her to another, more exciting world.