I Wish You Love
---
by Nancy Pirri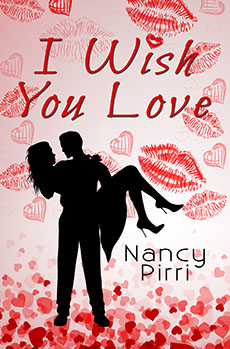 Amy's Gift
How does efficient personal assistant, Amy Gallagher, gain the amorous attentions of her boss, James Kent? By playing tricks—until they backfire on her and she finds herself definitely under his radar!
Winning Sylvia's Heart
A broken-hearted Sylvia Maxwell finds true romance, with more than candy kisses and clichés, with Jack MacNamara, her next door neighbor.
Wishes and Kisses
For Angelina Marrone's twenty-first birthday she receives a birthday present to remember; a night in the arms of sexy escort, Burke Severson, along with the proverbial birthday spanking.
When Maggie Loved Patrick...then John
Maggie discovers her fiancé, Patrick, is cheating on her once again. When she catches him in bed with his secretary, she wants revenge. Then John, the secretary's fiancé, approaches her with a plan. Maggie gets much more than she bargained for.
Riding Blue Steel
One woman, biological clock ticking; one widowed father with no desire for more children. Is it lust or love at first sight at a Bikini Bike Wash?
---
Preorder:
Kindle ♥ Smashwords ♥ Nook ♥ Apple ♥ PRINT
Release Date: May 8, 2014
Genre: Contemporary Romance Anthology
A RED SATIN ROMANCE
---
Excerpt
Amy's Gift
"Damn! Where in the hell are my clothes?"
James Marshall Kent, owner of Kent's fine clothes for men and women, stared into his closet, unable to believe his eyes. Every article of clothing he owned had been removed. Clad in a towel he'd hitched around his waist, he stalked over to his bureau and started opening and slamming drawers.
No underwear, no t-shirts, not even one pair of socks. Someone had cleaned him out. And he had a pretty good idea of the thief's identity; Amy Gallagher, his beautiful but naughty personal assistant of one year.
He'd been the victim of several pranks over the past month, and had yet to identify the prankster. He guessed it was his assistant, since everyone else he employed was scared of him. It irked him she wasn't.
James slammed the last drawer shut and thought about Amy's recent comments to him. 'Lighten up,' and 'You take life way too seriously'.
Amy's words irritated him. None of his employees dared to talk to him that way—except her. The fact of the matter was her words were true, still, the woman needed to show respect for him as her boss. He'd show her serious, with a trip over his knee for a good old-fashioned spanking, if he discovered her to be the culprit who'd absconded with his clothes. Then the unwanted image of taking her to his bed and lavishing her ass with kisses, over the marks left from the imprint of his hand, entered his mind. With a shake of his head, he dismissed the ridiculous idea. But damn if the woman didn't tick him off!
He let go of the towel and threw himself down on his back on the bed. He should have been on the road home to White Plains by now, where he planned on spending a quiet Christmas—by himself.
Bah. Humbug. He knew his employees felt that way about him and he liked it that way. Christmas was just like any other day to him—since Stephanie left him six years ago. Chagrinned, he realized he still hadn't gotten over his ex-fiancée. No, that wasn't true. He'd gotten over her, so much, in fact, he refused to allow any other woman to get close to him again, including Amy.
He sat up, swiped his still damp black hair back from his forehead, and grinned. He'd go downstairs and fetch some clothes; so much for his assistant's pranks. Ironically, she'd forgotten he owned a clothing store right downstairs.
Yet he knew Amy wasn't an 'airhead', but the best damned assistant he'd ever had. Though, by her 'come hither' looks at him over the past several months, he guessed she'd developed a crush on him. As soon as he saw her again, he'd set her straight and inform her he wasn't the marrying kind.
He rose from the bed, picked up the towel and tucked it in around his waist again then headed toward the door. The phone rang and he paused. Who in the hell would be calling him on Christmas Eve? He picked it up on the third ring.
"Yes," he barked.
"Mr. Kent?"
Amy. Guilt must have driven her to call him.
"Are you there?" she asked.
"Yes, Miss Gallagher?"
"Are you…are you mad at me?" she rushed out.
He dropped the towel again. "Why would I be?" He made his voice smooth as silk and calm as a sea with not an ounce of wind in the air.
"Because I stole your clothes."
"It was you."
"Yes."
"Were you the one who replaced my bottle of Spice cologne with the women's counterpart, Spicier?"
"Yes."
"And the other pranks?"
"All me," she confessed.
"Dare I ask why?"
"I wanted your attention."
"Rest assured you've got it. Can you think what I'd like to do to you at the moment?"
"Uh, well, I can't. I imagine you're angry, though."
"Angry?" he said through gritted teeth. "I was supposed to have left for home over an hour ago."
"I thought you were spending Christmas alone. At least you told all of us at the office you were."
"I am," he snapped. "I like my privacy, damn it, and planned on spending the next week catching up on some reading."
"Whew! I was worried you had family coming and I made you late."
"Hell, no. My family is spread across the country and spending time with their own families."
"Okay. I'll return your clothes, once you hear me out."
"Where—are—you?" he snarled.
"In the office."
"How'd you get by the night guard?"
"I hid there until everyone left at the end of the day."
"Come up here. Now."
"Why?"
"Talk, you said you need to talk to me," he reminded her.
She didn't say a word for a long while, then whispered, "I'm on my way."