A Montana Women Novella
Katie and the Marshal
---
by Nancy Pirri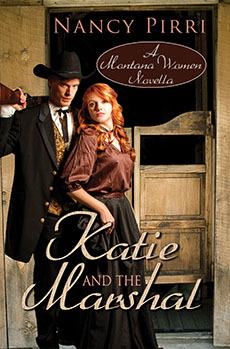 Bozeman, Montana's new marshal, James Freeman, has big plans to close down every brothel in town, including Katie's Palace. Katie O'Malley has the fight of her life on her hands—convincing James she's running a legitimate establishment—a saloon, diner, and boarding house.
James soon finds himself falling for Katie, but when an incident occurs, marring her reputation and forcing her to close down the Palace, James loses what trust he has placed in her.
Will Katie be able to save her business? And will she lose her heart in the process?
---
Purchase:
Kindle ♥ Smashwords ♥ Nook ♥ Apple ♥ Kobo ♥ Google Play ♥ PRINT
Release Date: June 2, 2017
Genre: Historical | Western
---
Excerpt
Prologue
1865
Butte, Montana
"Jimmy boy, ain't nothin' you can do about yer mama's occupation. Ye just can't change things. It's her choice," the man said, a wide, lecherous grin on his lips. "Besides, ain't she keepin' vittles in yer stomach and clothes on yer back?"
Fourteen-year-old James Freeman glared at his mother's latest 'friend.' Beau Hanson sat in his mother's tiny parlor, cocky expression on his face, a wicked gleam in his eyes. Big and blonde, he was a lummox of a man. While Hanson had treated him and his mother fairly over the past month since he started 'courting' James' mother, he knew to keep his anger buried deep inside him and his mouth shut. The man must be able to read minds, or James hadn't done a good job keeping the scowl from his face, for the man had guessed his feelings.
For two years, James had suffered abject humiliation because of his mother's work. But then James knew she'd had no choice. Margarite Freeman had been desperate.
After his father died two years ago, their lives had changed. The family home had to be sold to pay off debts neither of them knew his father had incurred at the gambling tables. And his father's stake in a once thriving silver mine had resulted in little monetary value since it went dry within a few months of its discovery.
James had managed to secure farm labor work, but the pay was low and back-breaking. That lasted a month. Out of nowhere, Margarite informed him she'd found work and he could return to school once more.
His heart had pounded with joy at her words. James loved school and planned to make something of his life. Once he had his degree, he could care for his mother, and no longer would she be forced to accept men into their home.
From the first, she'd been evasive about the type of work she'd found, but it wasn't long before James heard kids at school calling her a 'slut.' After many bloodied noses, James found the courage to confront his mother about the allegations. As she'd always done, she gave him the truth. While he hated her words, he understood her desperation and was proud of how she cared for him.
James heard Margarite's light step from down the hallway, and he slunk lower in his chair. He watched her move gracefully into the parlor. She was a beautiful, caring woman, meant to have a wonderful life. He'd do everything in his power to protect and care for her—once he was able to earn a good living.
His gaze left her when he heard a chair scrape against the wooden floor. Hanson rose from his chair, his face changing from friendly to dark and...
James shuddered at the expression on the big man's face.
Hanson took two steps so he stood directly in front of Margarite. The man took her in his arms, grabbing her buttocks and kissing her fiercely, pressing her tight against his body.
James fisted his hands on the table in front of him in impotent fury before shutting his eyes tight against the awful scene. It took all of his willpower not to leap out of his chair and pounce on Beau's back. Only when the bastard finally released her did James breathe a relieved sigh. Margarite sent James a warning look and a small shake of her head before facing Hanson with a brilliant smile. Then she put her arm through his and sashayed from the house.
James' eyes got teary as he thought ahead to a lonely night of cursing and worrying about his mother, knowing she wouldn't return until the break of day.
Three years later, the future for him and his mother that he'd envisioned had ended precipitously when she died of syphilis.
Now, on a cold winter day as he stood before her grave, he smiled. He thought of her words when he'd confronted her about the men in her life. She'd replied, "What, James, will you be my knight in shining armor come to rescue me? You can't, you know, it's my choice. Besides, you're a child. Perhaps one day, after you've grown..."
No longer was he a child, but he'd been too late to save her.
I was too late to be your knight, Mother, sad to say.
But he vowed, in future, to charge to the rescue of any other woman who needed his help.