Night Music
---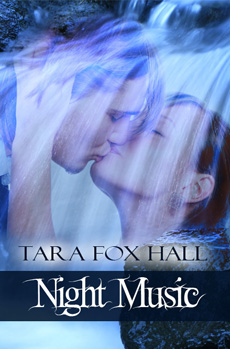 Grieving Krys Markman has come to lose herself in family memories at Letchworth State Park, and try to figure out her next step. Yet the unearthly beautiful music she hears each night stirs her soul to romance. Can its creator, the attractive vampire David Helm, heal her broken heart?
---
Purchase:
Kindle ♥ Nook ♥ Smashwords
Release Date: June 5, 2014
Genre: Paranormal - Vampires - Short
---
Excerpt
Chapter One
Krys walked slowly toward the low stone wall, the roaring of the falls capturing all her attention as she rested her hands on the cold rock slabs. The view was as magnificent as ever; the towering waterfall spanning the wide river, the trails beside it framed with stone and concrete walls more than fifty feet below. The early spring afternoon felt more like late summer, the air balmy and comfortable, even in her T-shirt and jeans.
Letchworth State Park. The place was exactly the same, but everything was different. Her parents were gone, and now her brother was, too. They'd come here as a foursome every summer and stayed for a week, renting a rough built cabin. It had been bare bones, lacking heat, water, or even a private outhouse. But it had always been a good time to her and Bill: fishing, hiking, playing games, and encountering the wildlife. Each summer, her parents always treated Krys and her brother to one special adventure. For Krys, that had been the whitewater rafting outfit that operated below the lower falls. For her brother, Bill, that had been either horseback riding or a ride over the river via hot air balloon.
They'd had such good times here...
Pretending to brush back her hair, Krys brushed away a tear, conscious of the many tourists still snapping pictures of the falls. Why had she come here? What had she hoped to find?
"Excuse me," an old woman said, tapping her elbow. "But we'd like to get a picture together. Would you take one of us, please?"
Krys nodded, then snapped a few pictures as the couple posed in front of the falls. Handing back the camera, she hurried inside the Glen Iris Inn, calling herself an idiot. Ringing the bell, she waited.
A desk clerk came in quickly. "Can I help you?"
"Krys Markman," she said. "I'm checking in. I'm staying in Caroline's Cottage."
"Please fill this out." The woman handed her a form. "And I need a credit card to make an imprint."
Krys handed over her credit card, then took it back a few minutes later, handing in the filled out form.
"Staying with us all week?"
And probably going to rue it, Krys thought miserably. "Yes."
"Have you stayed with us before?"
"Yes," Krys said quickly. "I'll just need one key."
The woman began reciting the checkout times and other rules, all of which Krys knew by heart. She fidgeted, then grabbed the key, not replying to the startled clerk as she ran outside. A couple jumped back as she nearly banged in to them.
"Hey!" the man said, throwing an arm in front of his wife to shield her. "Watch where you're going—"
"Sorry," Krys stammered, flushing.
The couple gave her another dirty look, then walked upstairs hand in hand. Krys sat down in an empty wrought iron chair, rubbing her eyes.
Enough already. This was her vacation, a long break to recoup before embarking on a new chapter in her life. Relaxing was the first step. Walking was out; the lampposts scattered around the Glen Iris Inn were coming on. So it would have to be alcohol instead.