An Unconventional Christmas
---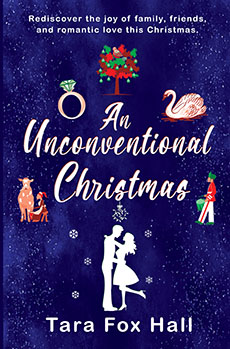 When Endless Love CEO Viola Bohannon hires Cyprus Kennedy, a.k.a. Miss Romance, in early December to arrange a dozen "perfect" romantic moments leading up to a Christmas finale to save her failing marriage, she adds the next to impossible challenge: base the moments on the Twelve Days of Christmas.
Cyprus comes up with creative, unconventional romantic events in record time which seem to draw Viola and her husband, Kendrick, back together, even as Cyprus finds herself the focus of not one but two new beaus who couldn't be more different men.
Each successive holiday event unfolds surprisingly well under Cyprus's close supervision, yet also sparks reflection on her own estranged family, lack of close friends, and unthought-of dreams of the future.
Pressure mounts as the countdown to Christmas Eve nears, necessitating a choice between rural craftsman Tucker and police detective Mike, both of whom ask Cyprus for the date.
Can Cyprus fashion not only a perfect Christmas for the Bohannons, but also devise her own perfect Christmas romance, possibly her own happily ever after?
---
Purchase:
Kindle ♥ Nook ♥ Apple ♥ Kobo ♥ Smashwords ♥ Google ♥ Print
Release Date: November 8, 2022
Genre: Contemporary | Holiday

A Pink Satin Romance
---
Excerpt

Prologue


Viola Bohannon gave me a sweet smile, making me brace for the threat I knew was coming. "Remember, if you fail me in this, Miss Romance, you'll not only never work for Everlasting Love LLC again, but you'll be also blacklisted from the entire city. In short, you'll have to pack up your company and head down the road."
I gritted my teeth behind my smile. She said LLC just to intimidate me even more. Don't show any fear, or the game is up. "You made it very clear that not only was my future with your company at stake, but so was my reputation as Miss Romance, the woman who guarantees perfect romantic moments for couples on a budget. Now if you're ready to begin, I need more information about what you expect."
Viola's arrogant smile slipped a bit. For a split second her perfection cracked, the professional and beautiful blonde woman before me becoming much more like a typical client: unsure, awkward, and hopeful that I had the answer to her still unasked question. "A miracle."
This I can work with. "Could you expand on that?"
"I need you to make my husband fall back in love with me," she said, each word so grudging that I felt as if I'd pulled them out of her mouth one by one with a fishhook.
Um, this is not what I said I could do. At all. "You asked me for a consultation, indicating you wanted to spice up your current relationship. There's a big difference between spicing up a relationship and saving one."
"You bill yourself as 'Miss Romance, the lady who can create a beautiful fairytale romantic moment for any couple.' Well, I want a happily ever after, and I want it by Christmas Eve."
"That's in three weeks," I stammered.
"You say you need just a simple consultation to get information to create a perfect moment for any couple," Viola pressed. "That's what this is. I'll give you any information you need, and I'll pay you any fee. That's right, I said any fee. I know you usually charge five hundred for your 'moment' plus any decorating, location, or prop fees. I'll pay that as well. But I'm guessing you need more than just one moment to sway a man from filing for divorce."
Way, way over my head. And my pay grade. "Excuse me, but if he's filed for divorce, I'm not sure there's much I can do."
"Kendrick hasn't yet," Viola said in resignation, sitting at her desk. She looked away. "But he's distant, and it's not the good kind of distant, where he's planning some special holiday surprise. We've had some fights in the last six months, and they're only getting worse. I'm waiting for the other shoe to drop."
"Again, I'm sorry, but I'm not sure that a romantic moment or twelve will be enough to make your husband reconsider."
"There's not another woman, if that's what you're implying," Viola said cuttingly. "We've just grown apart. We both started out excited about our careers, but we were even more excited about each other. And now...we aren't."
"Before I start, I'll need you to fill out this questionnaire," I said, sliding it over to her. "Yes, I'm aware it's twenty pages, and it asks for a lot of personal details. Miss Romance specializes in creating romantic moments for couples who are long-term that want to spice things up, as I already stated. To do that, I need information about the two people in the relationship, so I don't send a pair of lovers on a skydiving expedition when one of them is afraid of heights. Anything you're not sure of, write "Don't know" in the space. Do not leave any questions blank, or I will think you missed them and have to ask you to fill them out and resubmit the form."
Viola scowled but accepted the paper. "I can fill this out and have it back to you in a day. Kendrick sent me a text to say he was going to Chicago this weekend for a convention."
I'd ask what he does, but I want to get out of here, and she'll give me that and more on the completed form. "Great, I can get started as soon as you send it to me." I stood up.
"Remember what I said," she restated, staring at me pointedly. "Goodnight."
* * *
Later that night, I was just closing down my computer when an email from Viola popped through with an attachment. "Ugh, she meant what she said. Damn it to hell." I opened the attachment and skimmed it to the end. Sure enough, all the questions were filled out. She'd written her answers out in messy longhand and scanned the papers in, but glancing through I was able to read most of what she'd written.
Then I saw the budget and was pleasantly surprised. As in wowed. "Twelve thousand dollars for a budget!? With optional additional funds?" She must be thinking a romantic travel holiday overseas.
Then came the kicker on the final page of the questionnaire, where my last question asked if the client had any ideas about their romantic moment. I'd seen anything from the 'Don't Know' to 'Roses and hearts all over' to 'Diamond ring in a box.' But I'd never seen this, and the sight made me gasp aloud.
Viola had written "You said that you weren't sure if one romantic moment would do it, or even twelve. I'm a woman who believes in going all the way. I want twelve romantic moments, spaced out every two to three days over the next three weeks, cumulating with the last on Christmas Eve. And since it is Christmas, let's be festive! Base the moments on the Twelve Days of Christmas."
I turned to my cat, Giselle. "We're doomed."