Wrangled Hearts
---
by T. D. Jones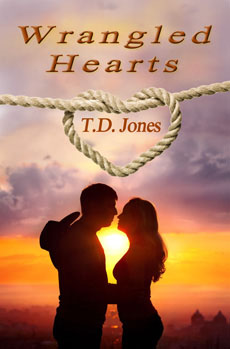 Clara Rhodes has been the star of day time TV Sunset Rose for over fifteen years. She's giving it all up to go home to Pickett, Texas to be with her dad who's dying of cancer. As she's losing one man she loves, her heart opens up to a new man she thought she could never love. Clara soon realizes home is where her heart is.
---
Purchase:

Kindle ♥ Nook ♥ Apple ♥ Kobo ♥ Smashwords ♥ PRINT
Release Date: March 25, 2012
Genre: Contemporary Romance
~ A Pink Satin Romance ~

---
Excerpt
Clara Rhodes was shocked at how loud her laugh sounded. She had been in the coffin for the last hour and was getting uncomfortable. The scene was racking on her nerves. She was getting distracted and her laughing out loud was a sign of that.
"Cut!" Phil Baxter hollered from across the room.
"Crap. Now you got me in trouble," Clara moaned. She hated to be in trouble with Phil. Even though she knew he was very fond of her, he had no problem chewing her out like any of the other actors on the show.
"You're the one who let out that crazy, bellowing laugh of yours," Kevin said as he peered down at Clara.
Clara rose up and looked in the direction of the producer. "Sorry Phil, it was Kevin's fault. He was talking to me," Clara hollered. She then popped back down in the coffin. She just needed to stay focused and finish the scene. After that it would all be over. She would head home. She felt the tears starting to build up in the corner of her eyes. She was having a hard time keeping her emotions under control. If she started crying now she would get chewed out. Dead bodies don't cry.
"Traitor," Kevin whispered.
"Okay people, one more time." Phil's voice carried throughout the large room.
Clara smiled and winked at Kevin, then closed her eyes. She was going to miss being on Sunset Rose, the most popular daytime soap opera. The past fifteen years had been the best time of her life. She loved playing Sara Mayfield. She knew going from New York back to the small town of Pickett, Texas was going to be different. It's been a long time since she'd been home for any extended amount of time, at least not since she was seventeen. When her sister called and said their dad was sick, she knew in her heart it was time to go back home. There was no way she could do her best professionally when her heart wanted to be in Texas. So with that decision made, she advised the show she wouldn't be renewing her contract. Phil did everything he could to try to talk her out of it, but in the end when Clara wouldn't budge he gave in and accepted her decision to not return.